Trade shows present a singular opportunity to assess the market. On that score Vitrum has always been crucial for comprehending the glass industry's trajectory. Here Mappi has adeptly incorporated "active listening" to the market among its core strengths. A peek into the company's booth reveals two prominent trends, namely "ever larger" and "ever smaller," which we will examine now in depth.
While glass tempering defies standardisation, the ideal furnace for the future glass industry must handle large-sized sheets – akin to those used in skyscraper facades. It should operate continuously, even at low loads – all while effortlessly handling the diverse glass types that are available on the market.
Heating
MTH, Mappi's latest innovation, accomplishes precisely this. With a loading platform reaching 3,300 by 6,000 millimetres, it upholds the kind of quality, innovation in solutions, reliability and flexibility that's now synonymous with Mappi machines. The loading platform heating system optimises energy consumption – directing it precisely wherever glass sheets are present and facilitating efficient operations, even when below full capacity. This optimization delivers substantial energy savings, making a meaningful impact – day after day, year after year.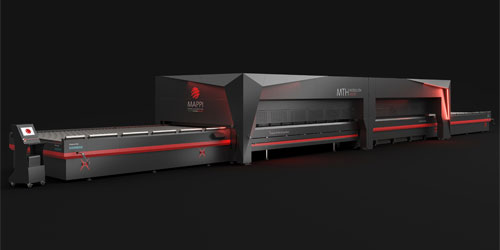 Data security and processing
The second trend, "ever smaller," focuses on data security and process efficiency, given the indispensable role of software in tempering furnaces. The furnace itself, integrated with electronics, becomes an essential part of the management system. Demonstrating its commitment to customer security, Mappi invests in Edge Computing in order to process data closer to its source to enable real-time operations at higher speeds and volumes while ensuring heightened data security. This facilitates faster processing which, coupled with artificial intelligence, empowers predictive checks on the machine – optimising assistance and reliability. Cloud-based data remains instrumental for inter-system, or ERP, exchanges.
A prized collaboration
In this area, Mappi continues its fruitful collaboration with Siemens. At Vitrum 2023, the company will be showcasing practical applications on a real machine. Also, in partnership with Siemens, it will host a Masterclass on the potential of Edge computing in industrial applications.