CAM YAPI was established in Istanbul at the end of 1999 with the aim of producing architectural glass and became the first company capable...
The SM2535 automatically detects the size, thickness and position of glass to quickly grind all edges. Coatings are removed and edges are prepped for...
Because the existing building in Weinfelden reached its limits, a new two-storey building has now been erected on the 19,000 square metre site across...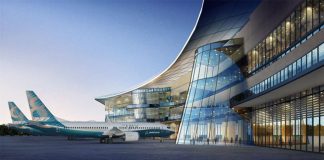 On May 11, 2017, the construction of Boeing 737 Delivery Center started in Zhoushan Aviation Industrial Park. The centre is mainly engaged in interior...
Hazlemere Commercial offered front end support on this large scale window and door refurbishment scheme. Here's how they did it. The first few years included...