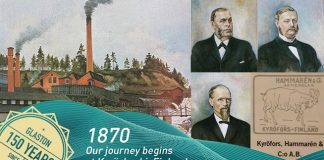 Glaston's roots go back to the company Hammarén & Comp, founded in 1870. Operations focused on forestry and paper, and the successful Kyröskoski Works...
The project blends its original Victorian brickwork with two new glazed 'light box' additions which will provide students with light-filled spaces in which to...
In 2019, NorthGlass represented "created in China"In January 2019, at the BAU in Germany, a foreign customer, after seeing the glass products of NorthGlass,...
Vidroporto plans to increase production to 370 tons a day of molten glass at its Indústria Videira do Nordeste (IVN) site in Sergipe, Estância,...
Andreas Winter will leave the management board of Glastech Produktions- und Verfahrenstechnik GmbH on January 20, 2020 at his own request and will take...