During this very abnormal year, with all trade shows cancelled and postponed due to the ongoing Covid emergency, companies in the glass industry are continuing to work and develop their products – getting ready for next year's full calendar. Turomas gives us an idea what we can expect to see with innovations not only in machines, but also with software and 4.0 solutions.
| | |
| --- | --- |
| | |
With over 30 years in the glass industry and collaborations with major processors and glass manufacturers, Turomas has become a global reference in smart glass storage, loading and cutting machinery in markets as demanding as automotive, architecture or decoration.
100 per cent of the design, manufacture, coding, and assembly of Turomas machinery is carried out at its facilities in Spain using only the highest quality European components to guarantee the reliability, safety, performance, and precision expected from a leading brand.
The development force is the core of its business. Turomas offers a complete range of standardized machinery, although many of the equipment is customized to suit customer requirements.
It is not only about selling a machine to load, cut or store glass, it is about guiding the user through the whole process until he finds the integral solution. The solution he really needs.
This is something that Turomas has had in mind since its beginnings in 1985.
A YEAR OF SELF-IMPROVEMENT AND ENTREPRENEURSHIP
The year 2020 will be remembered as being the year that put us all to the test. The year that made us overcome situations in the best way possible that had never happened before. Trade fairs have been cancelled, and this has limited our commercial life and the personal contact with our customers and suppliers for quite some time.
Even so, Turomas has not been standing still and has remained side by side with its clients, helping them to overcome this turbulent year. It is at times like these that close support for each and everyone of them is most needed.
As well as being a year of self-improvement, it has also been a year of entrepreneurship, of achieving new goals, of walking new paths. 2020 is the year in which Turomas gives the go-ahead to the new Turomas Software product range and new machine concepts that will undoubtedly revolutionise the flat glass industry.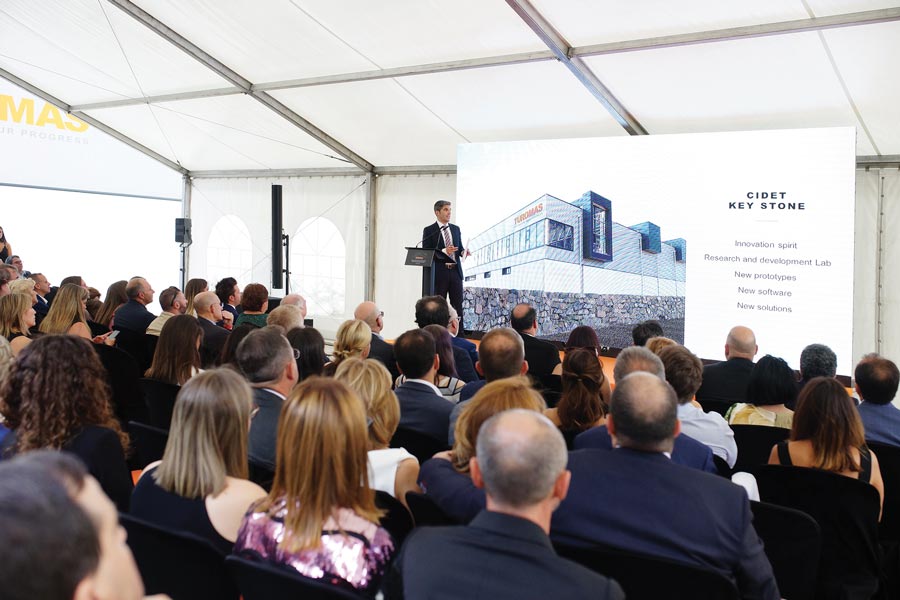 TUROMAS SOFTWARE
Thanks to the recent opening of the Turomas Innovation and Special Development Centre (CIDET), the cornerstone of the Group's expansion project, efforts can be channelled in this new centre into research, design, and development of software and 4.0 solutions.
This space is the ideal place to create and give light to these new applications. The new product range established on Industry 4.0 understands industry operations based on machine data.
Turomas Software applications run state-of-the-art software that guarantees the perfect interconnectivity of machines with any ERP Optimizer available on the market. They provide an optimum use of resources to manage production from a single
control interface, monitoring and controlling the glass stock in real time, and managing non-automated glass warehouses. Their control interface
has been carefully designed to meet the requirements of the final user: adaptability, intuitive and user-friendly.
Information is power, and this is the aim that the Turomas brand has pursued: provide the right information in a standardized and open language to make customers' day-to-day lives easier.
NEW MACHINERY DEVELOPMENTS
High-performance decorating system
The new self-calibrating high-performance decorating system for low-E glass and low-E with plastic protective coating (TPF), is now also capable of decorating low-E with EASYPRO® protection.
Following improvements implemented on the system, Turomas has achieved the elimination of this material in a single run, improving cycle time and grinding wheel wear. In addition, the advanced vacuum system eliminates any waste resulting from the process.
Revolutionising glass loading
In addition to the innovative decorating system, a new machine has also been developed, which will revolutionise glass loading concepts, and has been designed to change the perspective of any glass processor. It has never been possible to automate the loading and cutting of jumbo glass in such an optimised space as this new model does, reducing the area required to a minimum.
The new RUBI, in addition to automating the loading of jumbo glass, also incorporates a new instantaneous separation system which increases safety and makes the glass loading process more delicate, considerably reducing breakages due to collisions and the possibility of accidents.
Following cancellations or postponements of the industry's most important trade fairs in 2020, this new range of products will be presented in the upcoming year and in particular – at glasstec 2021.
Turomas and its new developments will be there to help glass processors make the most of their flat glass processing operations – now more than ever.

Turomas
www.turomas.com