Fire glass specialist Promat UK pulled out all the stops to help an interior design and build contractor to successfully complete an office fit-out scheme in Sheffield on time, meeting the tightest of client deadlines at its busiest time of the year.
More than 50 square metres of Promat SYSTEMGLAS® Ligna timber framed fire resistant glazing was manufactured in two-thirds of the usual time for an office refurbishment project by Ovo Spaces in Sheffield city centre. This rapid response meant Promat UK was tasked with reducing its usual lead time from six weeks to just four.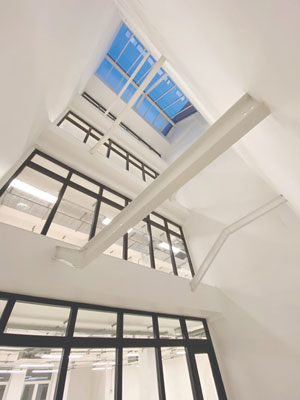 Working in conjunction with Promat SYSTEMGLAS® approved installer Rated Solutions, the team was able to provide EI30 fire resistant glazing which took the form of four large screens, two of which featured doors, with each measuring 6,000 millimetres wide by nearly 3,000 millimetres high. This was used over four floors to securely enclose a lightwell which had been installed to provide additional light throughout the building.
The Promat team ensured the glass was delivered on time, with over 50 square metres of glass cut, edge finished and taped before being quality checked and delivered to site. The installation was finished by the Rated Solutions team with just hours to spare.
Rebecca Knight, Managing Director of Ovo Spaces said, "Promat and Rated Solutions have been hugely helpful throughout the process, from initial quotation to installation, everything has been very clear and well done. They worked to extremely tight deadlines to manufacture the screens and their site installation teams were both speedy and efficient and a thoroughly friendly team, installing an excellent quality system. In the future they will be our 'go to' people!"
As with every Promat SYSTEMGLAS® fire resistant glazing installation, Ovo Spaces and its client also benefit from the peace of mind offered by Promat's 360-degree 'wheel of assurance.' In line with the golden thread, this demonstrates complete traceability with regard to the complete fire glass supply chain, from raw material sourcing through manufacture and processing to installation.
Ovo Spaces were issued with a project-specific Certificate of Conformity which can be shared with their clients, who were delighted with the end result.
Cath McLean, Segment Manager – Glass at Promat UK added, "We pride ourselves on going the extra mile for our clients and we will always do our best to help find a solution even in the most challenging of circumstances. When we were approached by Ovo Spaces, we were already very busy fulfilling existing orders during our peak period of the year, but we knew we could work with them to find a solution to meet their client's deadline.
"We made use of additional resources available within Promat, and thanks to the great flexibility and can-do attitude of our approved installer Rated Solutions, we were able to provide the SYSTEMGLAS® Ligna solution required.
"It was an incredibly tight timescale given the need to conduct a site survey prior to manufacture of all the timber frames – and the team at Rated Solutions had to get it right first time as the schedule left no time post-installation to address any snagging issues or problems."
The timber framed Ligna system used in the Fargate project is just one of the systems available within the Promat SYSTEMGLAS® range. Assured fire protection between EI30 and EI120 is also provided in a glazing system with a steel frame, SYSTEMGLAS® Ferro, and two options are available which use a fire resistant framing material – PROMATECT H® – that can be painted, overclad or concealed in surrounding walls and floors to achieve a virtually frameless look.