Palumbo Glass is one of the leading insulating glass manufacturers in Southern Italy. Founded by siblings Prisco and Carolina Palumbo, the company has been in business for more than 20 years and has earned a name for itself in and around Salerno thanks to its high productivity and quality finished products.
The plant's 3,000 square metre manufacturing space includes two Forel "Residential" insulating glass lines, which enable the company to handle different types of orders optimally while remaining faithful to the Palumbo motto "Produce well, or not at all."
"Our approach is based on two principles: reliability and know-how," said Prisco Palumbo, owner of the glassworks, "we maintain reliability through our approach to production: our insulating glass must meet market expectations, and we must always keep our word. Personally, I am against pursuing an order at any cost: productivity must be high, but never at the expense of the quality of our product."
The second aspect of their business philosophy relates to orders and customers. Here too, the Palumbo Glass vision is straightforward: "being professional includes knowing how to say no".
"I believe entrepreneurs in the sector need to be more aware of our role. We process the 'glass material' that forms the basis for any subsequent installation," Palumbo continued. "We know what type of glass will become a window, a balustrade, a shop window, a façade and so on. Window and door manufacturers bring us their customers' requests on a daily basis; however, some of the projects that reach my desk are simply not feasible, at least not without fudging, which would certainly lead to complaints at a later date. If I'm not convinced by a project offer, I simply answer 'no thanks'. We know what specifications the glass must meet to ensure professional installation, and we know that there are no shortcuts. Someone might think we're too rigid, but this attitude has helped us build our reputation. Our Customers know that if they turn to Palumbo Glass they will receive assured quality double glazing."
The production cycle at Palumbo Glass starts in the automatic warehouse where the Jumbo sheets (6,000 x 3,300 mm) are stored. The warehouse supplies three cutting lines for monolithic and laminated glass, operating in two shifts. The cut glass sheets are then taken to the first line for insulating glass or to the second line for shaped glass, Georgian bars, or large-scale IG units up to a maximum size of 4,000 x 2,500 mm. A quality control system is installed on each line.
As an additional precaution to safeguard the end result, the company decided to never operate any of the systems at full speed.
"In addition to quality (which was obviously the first requirement), a number of factors won me over. I believe that industrial machinery should be evaluated as a whole: how it works, how often it requires maintenance in a year, how quickly it can be serviced, whether it fits easily with existing machinery, etc. Some companies put the speed of the production cycle at the top of the list, but this has to be balanced against reliability and service. Forel has lived up to our expectations in these areas. Ease of use is also very important. I particularly appreciated that even less experienced operators learned how to use Forel machines quickly and were productive immediately. Among the various brands I know and have used, I think Forel comes out on top in terms of reliability."
Palumbo Glass is enjoying a growth trend at this crucial moment in history. The secret lies in the company's working philosophy and decision to invest in new technological solutions as well as major restructuring to focus on the production of insulating glass.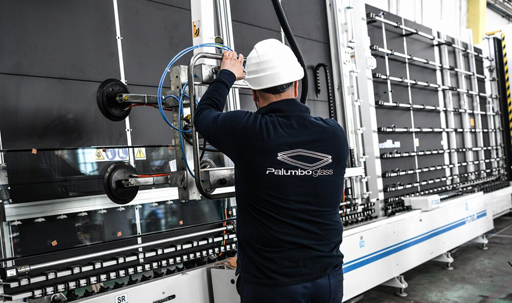 "Up until 2019, production was far more diverse. For example, we dealt with edge processing for interiors and furnishings, as well as handling outdoor installations. Then something changed: through a regular analysis of how different products were performing, I realised that 75 percent of the turnover was linked to the production of insulating glass. We were gaining market share, we were specialising, and we had increasing requests in that area. In comparison, the other types of orders were increasingly spread out and, paradoxically, caused profits to drop rather than increase (for example, if we had to include an order for mirrors in with a series of orders for insulating glass, the overall result was a slowdown in the production cycle). So we discontinued the on site installation service and stopped producing glass for interiors. We have kept almost the same number of staff and focus exclusively on insulating glass. It was a drastic but logical choice that paid off immediately. In 2020 turnover increased to over 5 million EUR (despite around two months of downtime due to the lockdown) and the signs for 2021 are encouraging, with order volumes already on the rise."