Shanghai Coated Glass Corporation, a subsidiary of NorthGlass Group, has officially changed its name to Coated Glass Corporation and it started fully managing the coating line in Luoyang. The company's business will expand to the markets in Central and West China, in a grand strategic adjustment.
According to statistics from March 1st. to March 31st, 2019, the first month after the integration of Coated Glass Corporation, the production and sales volumes of coated glass in this single month created a new record, reaching 440,000m²; 230,000 m² from the production base in Shanghai, and 210,000m² from the Luoyang factory.
Since 2016, the production and sales volumes of what is now Coated Glass Corporation have increased year by year. In 2016, after the general manager Mr. Gaofeng took over the company for half a year, the production and sales volumes of coated glass reached 1,300,000m², with a year-on-year growth of nearly 20 percent; In 2017, the production and sales volumes reached 1 900,000m². In 2018, the production volume reached 2,200,000m², the sales volume reached 2,400,000m². The first coating line self-developed by NorthGlass in 2008 has been running smoothly for 11 years and keeps breaking its production record, thanks to the solid quality of NorthGlass' equipment.
In recent years, although faced with tougher and tougher competition and the influence of fluctuations in prices of raw materials as well as the stricter environmental policies, but NorthGlass Coated Glass Corporation kept its solid presence in the market in East China through strict management, innovative management mechanism and continuous improvement in the production capability. In particular the workers in the workshop spared no efforts to accurately control the equipment's state and expertly debug the coating system. The next strategic step for the company is to explore the markets in Central and West China, aiming to build brand reputation and maintain its market share in Central and West China.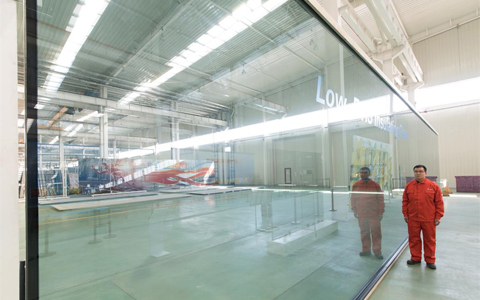 Mr. Gaofeng said that taking over the Luoyang coating line is a challenge, but what's more is an impetus. In future, the company will not only continue to do an excellent job in the market in East China, but also better serve the markets in Central, West and North China. The company will promote both glass products and equipment manufactured by NorthGlass.
Coated Glass Corporation has great support from both the equipment manufactured by NorthGlass and dedicated staff, and it's sure to achieve new records in the future.