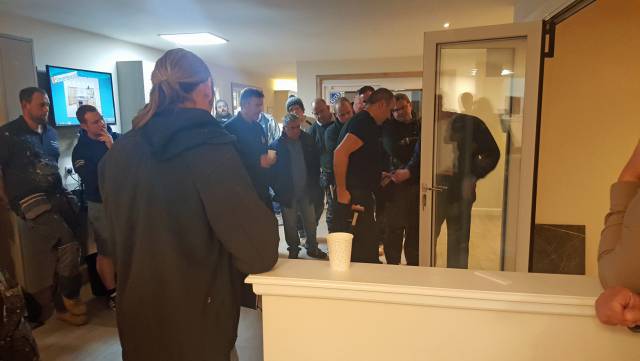 Stevenswood, Scotland's largest manufacturer of windows, doors, conservatories and kitchens, held a free bi-fold training day for customers on 27 October 2016.
The event drew more than 30 customers to the Stevenswood Edinburgh Sighthill Local Trade Centre to make the most of free information and expert advice on installing bi-fold doors.
Managing Director at Stevenswood, Ron Hepburn said: "With bi-fold doors becoming more popular with homeowners, we've noticed that more of our trade customers have started offering them as a part of their service.
"Whereas customers have been fitting windows and entrance doors for years, bi-fold doors are still relatively new to them. That's why we held this free event, to help them learn the basics and get a solid foundation of skills for fitting bi-fold doors."
Using the full-sized VEKA Imagine bi-fold door installation at the Edinburgh Sighthill Local Trade Centre, Stevenswood's resident bi-fold expert talked through the best way to fit bi-folds. They offered advice on how to glaze bi-fold doors correctly, how to adjust doors during installation and covered trouble-shooting common installation issues.
Ron added: "We're really pleased with the turn-out for this event. We've asked everyone who attended for some honest feedback so that the next one can be even better."
Stevenswood manufactures VEKA Imagine PVCu, WarmCore warm aluminium and Smarts aluminium bi-fold doors at its 55,000 sq. ft. factory in Livingston and distributes from its 14 Local Trade Centres across Scotland.