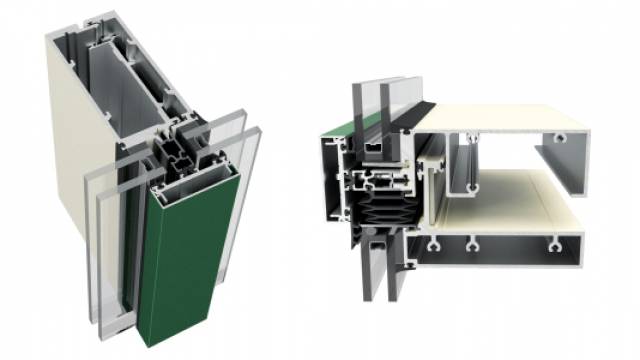 According to its manufacturer, Amercian YKK AP, the latest addition to its enerGfacade® product line – YUW 750 XT – delivers unmatched thermal performance and design flexibility for energy efficient building envelopes.
YKK AP America, the leader in manufacturing high quality architectural products, introduces the latest addition to its enerGfacade® product line with the new YUW 750 XT unitized wall system for low to mid-rise commercial buildings.
YUW 750 XT is designed to curb a building's appetite for energy. With a U-Factor as low as .30, the wall system is designed to meet the most stringent new energy codes. Offering unparalleled design flexibility, YUW 750 XT can be seamlessly configured for multi-span curtain wall applications, single-span ribbon walls, and combination elevations. Further enhancing design flexibility, the system can be specified for a fully captured appearance with visible exterior framing elements, in four-side SSG for an all glass exterior appearance, or a combination of both.
YUW 750 XT is available exclusively through EAP (Erie Architectural Products), YKK AP's fabricated systems partner, including complete engineering, assembly and pre-glazing, and panelized job-site delivery. Factory assembly and glazing in a climate controlled environment provides increased quality assurance of critical seals. YUW 750 XT seamlessly interfaces with YKK AP's award-winning ThermaShade® sun shades and Luminance® light shelves for a complete sustainable design solution for commercial buildings.
"Our goal with enerGfacade® is a completely integrated line of products for high thermal performance," said Oliver Stepe of YKK AP America. "The expansion of enerGfacade® with a diverse unitized wall product provides architects and building owners with a unique option for an advanced façade system. YUW 750 XT supports the rapid dry-in of the building envelope with unmatched aesthetic design flexibility."
All enerGfacade® products are readily available for use with standard 1″ insulated glass and offer the additional choice of adding high performance glass for even higher overall system thermal performance.