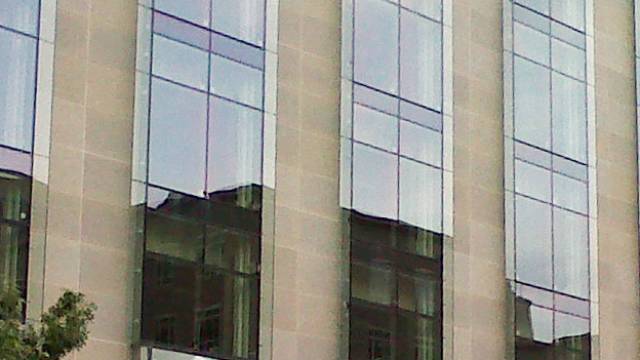 Wausau Window and Wall Systems® blast-mitigating curtainwall is being used in the modernization of the US General Services Administration's (GSA's) Federal Office Building 8 (FOB 8). Upon completion, anticipated before the end of 2012, the project will seek LEED® Gold certification from the US Green Building Council.
US General Services Administration's (GSA's) Federal Office Building 8 (FOB 8) will soon complete its major modernization. The project includes Wausau Window and Wall Systems® blast-mitigating curtainwall to enhance the façade with contemporary aesthetics and high-performance functionality, providing occupants with expansive views and plentiful access to natural light.
Upon completion, anticipated before the end of 2012, the project will seek LEED® Gold certification from the US Green Building Council. Maximizing daylighting strategies, the exterior renovations entail replacing a large portion of the existing limestone façade with vast expanses of glazing. Additions and expansions include a glass entrance pavilion at the building's north side, projected window bays on the south façade, and two new atria.
Wausau custom-engineered and fabricated Blast Hazard Mitigation (BHM) Series four-sided, unitized curtainwall. "To alleviate some of the headaches often associated with customized, complex systems, our unitized systems streamline the installation process by pre-fabricating the various components into large, pre-assembled units that can be crane-lifted from the truck and quickly installed on the building," explains Kevin Robbins, Wausau's regional sales manager for the D.C. area.
In addition to the unitized wall, Wausau provided point-supported glass wing walls and atrium curtainwall systems. In total, Tidewater Glazing, Inc. installed approximately 60,000 square feet of Wausau's high-performance systems on the project.
FOB 8 occupies the entire block at 3rd and C Streets SW, in Washington, D.C. It originally housed Food and Drug Administration's (FDA) headquarters and laboratories. Designed by Boggs & Partners, the renovations will transform the property into a half-million square foot Class A office space nestled in a park-like setting. Once FOB 8's transformation is complete, the Architect of the Capitol and US Department of Health and Human Services will lease the space.
"Keeping and renovating the site represents the most cost-effective and sustainable alternative for the American taxpayer. It is also an interesting challenge to remake a '60s-era building into an attractive neighbour in this prominent location," said Regional Commissioner for Public Buildings Service Bart Bush at the groundbreaking ceremony on 15 June 2010.
FDA vacated the building in 2002 and interior renovation began. GSA awarded the USD 72.8 million contract to Turner Construction Company in January 2010. The 545,000-square-foot building is comprised of eight levels: a basement, a ground level, and six additional stories. There also is a rooftop penthouse containing mechanical equipment.
The project scope includes the renovation of the exterior of the building and its grounds, the addition of an entrance pavilion, and the installation of permanent perimeter security. The permanent security measures were developed in accordance with the Interagency Security Committee (ISC) Security Design Criteria for New Federal Office Buildings and Major Modernization Projects.
Providing a secured entrance, the newly constructed pavilion masks its apparent mass and scale with a combination of granite and glazed walls. The main building's renovated façade vertically orients the glass to provide visually consistency with the modern, Stripped Classical style of the adjacent buildings. Charles Klauder designed both of FOB 8's neighbours: The Mary Switzer Building was constructed in 1939-1940. The Wilbur J. Cohen Building was constructed in 1939 for the Social Security Administration.
Views from FOB 8's windows include many other historically and architecturally significant structures, such as the Modernist-styled Hubert H. Humphrey Building designed by Marcel Breuer in 1976 and the Beaux Art-styled US Botanic Gardens' glass-enclosed conservatory designed by Bennett Parsons & Frost in 1902. For outdoor greenspace, FOB 8's tenants are just one block north from the National Mall and can see dozens of tree species lining the area's pedestrian and transit pathways.
Streets originally planned by Pierre Charles L'Enfant in the 18th century border FOB 8's site. At the turn of the 20th century, the McMillan Commission expanded on the L'Enfant Plan, extending the Mall to the west and accentuating several visual axes with monuments. The principles articulated in these plans still guide the development of the city today, including major renovations like FOB 8.
Federal building projects within D.C. must adhere to numerous of plans, principals, policies, guidelines and standards. The US Green Building Council's LEED Rating System remains largely voluntary. GSA has been a strong, vocal supporter of LEED certification and its energy-saving benefits for new and existing buildings.
Wausau has contributed to dozens of LEED certified projects, including its own LEED-Silver manufacturing centre. "Our facility provides a controlled, factory environment to ensure the desired product performance for complex projects like FOB 8's combined requirements for blast mitigation and energy efficiency," says Wausau's government market manager, Tom Mifflin, LEED Green Associate.
He continues, "A key part of the system's thermal performance is the glass. Viracon's VNE-63 glass was specified to reduce solar heat gain to help the people in the building stay comfortable without cranking up the A/C in summer. And with greater availability to daylight, the tenants don't need to turn on their electrically powered lights, which saves energy."
Further contributing to FOB 8's environmental goals, Wausau manufactured all of the curtainwall's framing from aluminium that contains a high percentage of recycled content. Enhancing the appearance and durability, the aluminium frames were finished by Linetec in Champagne Gold. This three-coat 70% polyvinylidene fluoride (PVDF) metallic paint was custom-blended at Linetec's in-house laboratory.
The finish was applied using state-of-the-art equipment to ensure 100% of the volatile organic compounds (VOCs) released in the painting process are safely captured and destroyed with 98.5% efficiency at the factory – before the materials arrive at the building site.
Along with using low-VOC and recycled materials, and maximizing natural light and views, FOB 8's other green building improvements to support LEED Gold criteria include:
* High-efficiency HVAC systems, with energy recovery dedicated outside air systems, demand-controlled ventilation, high-efficiency chilled water plant, and other automated controls;
* Energy-saving LEDs;
* Vegetated roof;
* Water-efficient fixtures;
* Stormwater controls;
* Electric vehicle charging stations;
* Green space reclaimed by converting surface parking; and
* Access to public transit and bicycle routes.
Turner also will recycle and reuse construction and demolition waste on this project.
"We look forward to the building's completion this autumn when we the new tenants move in and can experience the improved property," says Robbins. "Many studies have proven those who work in daylit buildings with outside views are often more productive, healthier and happier. Ideally, the building's sustainable features will stand out and the carefully engineered, protective features will be largely invisible. We hope that everyone at FOB 8 will enjoy a safe, comfortable workplace."
Wausau Window and Wall Systems® 6250i-HRX curtainwall and window wall system is designed specifically for the floor-to-floor spans and loads of mid-rise and high-rise construction including university residence halls, office buildings, hotels and condominiums.