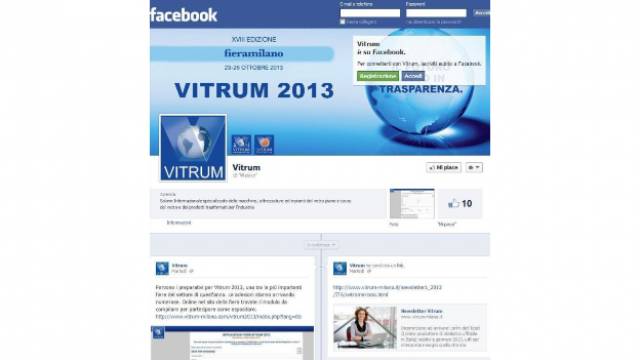 Visitors and exhibitors who are looking for regular updates about the upcoming Vitrum exhibition can now access information from the fair's new Facebook page at www.facebook.com.
The Facebook page for Vitrum – the biennial International Trade Show specialized in Machinery, Equipment and Systems for Flat and Hollow Glass, Glass and Finished Products for Industry – is now available online. Vitrum is one of the leading international showcases worldwide and attracts the best and biggest names of the glass industry to Milan for four full days.
It is a new way of reaching the trade and responding directly to their needs, and also provides real-time updates on everything that makes for a better Vitrum 2013.
"The Facebook page will be an excellent resource for the exhibition," Vitrum Director Renata Gaffo, confirmed, "for sharing important information with its exhibitors and visitors; over the coming months there will be updates on the exhibitors and the many new offerings in the exhibition's theme areas, news about the traditional special events that Vitrum has been organizing ever since it started with a view to disseminating awareness of this precious material, as well as the most interesting news from our sector".