Vitro Architectural Glass planted two trees on July 15, 2022, at its manufacturing plant located at 400 Park Drive in Carlisle, PA, USA.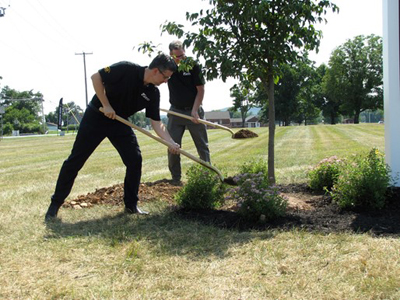 The trees were planted to commemorate 50 years of continuous operation of the plant's two production lines, which were commissioned in 1972. The plant manufactures flat glass, including Starphire Ultra-Clear® low-iron glass and both Solarban® solar control and Sungate® passive low-e glasses, which are used in residential and commercial construction markets.
"The planting of two trees on our site is a small yet symbolic tribute to the two production lines at Carlisle that are responsible for producing glass that helps keep buildings and homes energy efficient," said Darrell Jewell, Vitro Carlisle Plant Manager. "Throughout our history, both previously as PPG Glass and today as Vitro, we have continually raised the industry standard for sustainability. Vitro was the first company to achieve Cradle to Cradle™ Certification for our entire collection of architectural glasses. Our products also help architects achieve LEED® Certification for their projects," said Jewell.
By planting the two trees in front of the Vitro Carlisle plant, Vitro Architectural Glass highlighted the purpose of the company, which is to honour the past and innovate the future by practising sustainable industry standards and continuously improving operations through better research and development.
The company has various other celebrations planned throughout the summer to honour its 50-year milestone.