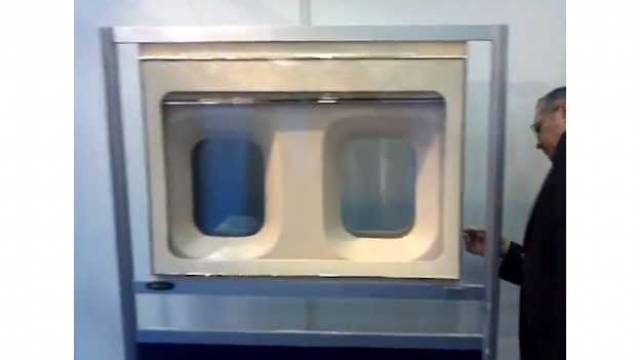 Vision System's photovoltaic autonomous dimmable window is capable of producing more energy than prior generation. More innovative SPD-Smart electronically dimmable windows featured at MEBA.
Research Frontiers licensee Vision Systems unveiled a new version of Energia, an SPD-Smart electronically dimmable window (EDW) capable of producing its own energy from the sun or from artificial light at last week's MEBA (Middle East Business Aviation) in Dubai. Because of patented SPD-SmartGlass film inside, you can touch the window and instantly change its tint within 1-2 seconds. This is a substantial difference over the minutes it currently takes passengers to change the tint of their EDWs on aircraft using electrochromic technology. Moreover, there is no need for any wiring to the aircraft's electrical system. The breakthrough product by Vision Systems produces more energy than the prior generation – 20 watts per square meter – and comes with a USB port to charge a smart phone/device as well as a reading light.
Energia and Vision Systems' other EDW solutions use Research Frontiers SPD-Smart light-control film technology as the foundation that delivers unprecedented benefits. At the touch of a button, passengers can instantly and precisely control the amount of daylight and glare coming through their window. They continue to enjoy views by tinting their EDW to control sunlight and glare to a comfortable level, rather than blocking their view with a shade. Vision Systems' SPD-Smart EDWs also provide outstanding heat rejection for a cooler cabin on the ground, and the acoustic insulation feature delivers a quieter cabin. The collective light, glare, heat and noise benefits offer a dramatically improved passenger experience.
Energia is a unique green solution for solar protection – an EDW producing its own energy from the sun – due to transparent photovoltaic cells integrated into the window which allows energy storage in a battery to provide the SPD-Smart dimmable window with electricity. The Energia mock-up on show at last week's MEBA was a 3.4mm thick curved window, producing more energy than the operational needs, enabling passengers to use the built-in USB port for charging devices. In addition, it offers a reading light built into the window reveal, which is also powered by the energy produced by Energia.
Energia operates without using the aircraft's electrical system, facilitating the installation of EDWs on new production and aftermarket aircraft – it requires no modifications to the aircraft's existing electrical system because it is completely independent from the cabin's wiring. In addition to easy installation, it is easy to maintain as the solution includes use of durable and scratch-resistant ultra-thin composite glass.
Vision Systems' MEBA booth also featured the company's other innovative SPD-Smart EDW products including Nuance Ultra-dark, which offers passengers the widest range of light control between clear and extremely dark (99.85% light blockage), and any level of tint in between; Nuance Multizone, with independently controllable zones within a single window; Color Options providing maximum flexibility to owners and designers wishing to coordinate the tint colour to the interior colour scheme.