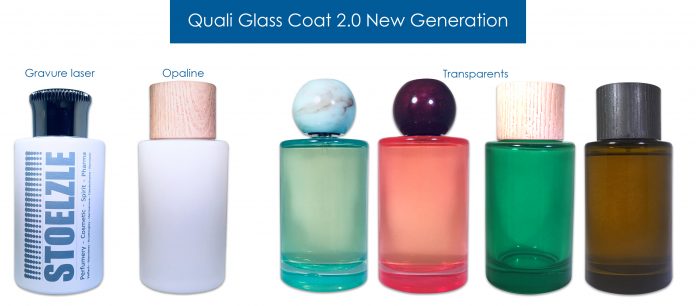 The relevance of the Quali Glass Coat 2.0 process compared to the traditional liquid paint process was assessed through the Life Cycle Assessment (LCA). This work carried out by EVEA an independent consulting firm in eco-design and Life Cycle Analysis, involved evaluating the environmental performance of 1 year of glass finishing at Stoelzle Masnières, considering 10 impact indicators on water, soil and air.
Results showed that the environmental benefit of the Quali Glass Coat 2.0 instead of liquid paint for glass finishing is minus 77 per cent CO2, that is 556 T of CO2 eq. avoided per year. This along with other commitments brings an average environmental benefit of 17% across all 10 indicators
A technology that brings a new finish to the market, a differentiation that liquid spraying cannot bring. The coverage rate is higher than traditional lacquering, it masks certain defects and provides better mechanical resistance.
This powder paint decoration process, first introduced in 2018, is now available in a wide range of colours for transparent, amber & opal bottles. This new 2019 generation allows the company to go even further in the search for creativity and personalisation of bottles and jars. In addition, on opaque vials, very fine laser engravings can now be added. Etienne Gruyez, Ceo at Stoelzle Masnieres Parfumerie said "We already offer many sophisticated and innovative decoration techniques. With Quali Glass Coat 2.0. we have developed an eco-responsible glass powder coating technique that we further improved in 2019 and that allows us to lose only 3 to 4 per cent of the material. In addition, the impact of C02 is reduced by 77 per cent compared to liquid paint. Empty vials can also be reused, powdered and redecorated. This gives us the opportunity to work on small quantities while respecting the environment."