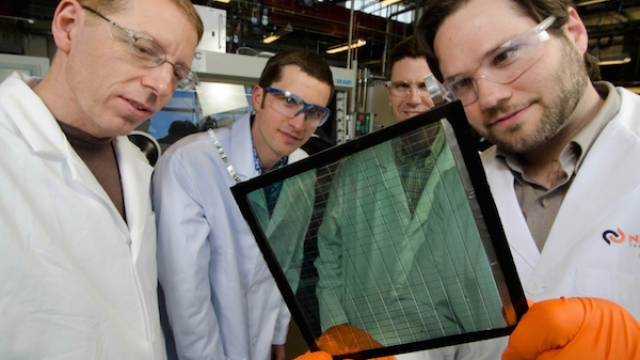 SolarWindow Technologies, Inc. will host a webcast on August 20, 2015 to discuss the company's plans to bring to market its transparent electricity-generating windows for commercial skyscrapers and towers.
"SolarWindow™: Power Reinvented" will be webcast live via the Internet on August 20, 2015 at 2:00-3:00 PM EDT.
"Our technology boasts a calculated and validated financial payback of less than one year, when modeled for a 50 story building, and shows 50 times more energy output than conventional rooftop solar power systems, according to the company's validated power model," said Mr. John Conklin, President & CEO, SolarWindow Technologies, Inc.
Commercial buildings account for nearly 40 percent of all electricity consumed in the U.S. in 2014.
The webcast will feature SolarWindow and industry experts discussing the company's technology objectives, commercialization path, recent technological advances, logistical challenges, and breakthroughs. "SolarWindow is hosting this milestone event with distinguished guest panelists because we have reached a point in time where we can now confidently share how we plan to bring our history-making products to market," said Mr. Conklin.
Dr. Scott Hammond is Principal Scientist at SolarWindow Technologies, Inc. and the leading developer of SolarWindow™ systems. Dr. Hammond brings extensive experience to the company from all areas of Organic Photovoltaics (OPV). He is currently a member of the American Chemical Society and the Materials Research Society, and a Sigma-Aldrich Global Advisor.
Mr. Patrick Sargent gained invaluable insights into the manufacture and use of glass for solar and photovoltaic energy applications at Asahi Glass, where he served as Photovoltaics Cover Technology Leader for its North American Solar Business Unit. He now owns Corona Solar Group, LLC, a solar power development firm specializing in solar design, engineering, and project development of solar and renewable projects.
Mr. Kenneth Schuckers, CPA, has contributed important energy and corporate tax know-how to development of the SolarWindow™ Financial Model. Ken has 20-plus years of corporate tax experience with over a decade focused on R&D and other federal tax credits and incentives.
Mr. Curtis Watkins is an expert in evaluating, advancing, and integrating emerging technologies at America's largest electric power holding company, Duke Energy. He is well versed in the regulated utility and municipality code enforcement industries.
Dr. Maikel van Hest is a Senior Scientist in the thin film and processing group within the National Center for Photovoltaics at the U.S. Department of Energy's (DOE) National Renewable Energy Laboratory (NREL). He specializes in materials science and scaling of photovoltaics using atmospheric processing approaches. He works alongside SolarWindow Technologies' Principal Scientist, Dr. Scott Hammond, to support the development of SolarWindow™ modules. Dr. van Hest is the PV thrust leader for the Solar Energy Research Institute between India and the United States (SERIIUS).
Patent-pending SolarWindow™ products are under development for the estimated 85 million commercial buildings and detached homes in the United States.