The LineScanner recently installed at WAPRO Gmbh & Co. KG, an insulating glass factory in Diedorf, Germany, utilizes the latest in LineScanner technology. At the inspection station located after the washing machine, the SOFTSOLUTION LineScanner has inspected every single lite since the start-up.
As soon as the LineScanner detects any surface quality or coating defects, the signal lamp turns red and all defects are highlighted and displayed on the monitor indicating the exact positions of each defect. The LineScanner then stores all scan data in the connected archive database. Employees can quickly and easily access the archived data for statistical reports and much more. In addition, the data can be tied directly to production information to easily look up past results should any questions about the quality of a unit arise in the future.
WAPRO is the leading flat glass processing company in central Germany, it has been producing high quality, multifunctional glass since 1998. Since 2020, the 2nd generation has been running the business. The company, which belongs to the UNIGLAS Group, decided to continue the successful cooperation with SOFTSOLUTION.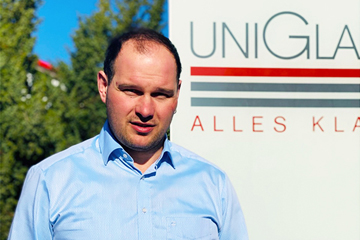 Mr. Martin Wagner, Production Manager at WAPRO, said, "The installation and commissioning went smoothly. Mr. Markus Oberklammer was brilliant with his expertise, which he was able to pass on to our dedicated employees through his friendly manner. The LineScanner is primarily used to further improve quality and support our employees at Visio. After purchasing a new washing machine and Visio in 2020, the latest generation of LineScanner was on our bucket list."
"After inspecting the scanner at GKT in Brakel, it quickly became clear to us that we wanted to use this tool. The quality of the scans and the handling were convincing right away," continued Martin Wagner. "We are looking forward to working with the tool and thank the company SOFTSOLUTION for the great product."