Skill Glass has become a leading name in crafting and designing high-tech numerical control machines for flat sheet glass processing. These machines, complemented by dedicated software and modern design, boast both simplicity and speed.
Headquartered in Schio (Vicenza), Italy, the company focuses on innovative, top-quality and user-friendly solutions. Skill Glass' expertise shines through in vertical processing – optimizing space usage for the glass industry. Ideal for architectural and structural glass production, the company's machines possess remarkable features and advantages in the vertical glass processing sector. Its founding is rooted in the rich experience of Beniamino Dal Santo, which form over 30 years designs and creates glass processing machinery.
Today the Skill Glass brand offers a diverse range of large machines suitable for standalone use and integration into various systems. This includes vertical CNC centres, drilling and milling machines as well as machines for grinding and polishing – even tailor-made solutions.
One exceptional product is Skill Pro, a numerically controlled vertical machining 9-grinder (Skill Sfill) and a 6-axis drilling and milling machine (Drill 101FF). This unique setup enables multiple processes within a single system – maximizing productivity whilst maintaining precision under numerical control. The line accommodates the processing of flat glass sheets, even in 'oversized' dimensions of 12,000 by 3,300 millimetres. Here, thanks to Skill Glass' versatile solution, the handling of large slabs becomes both swift and efficient.
Key Advantages Include
Swift grinding and polishing with two simultaneous heads
Processing range from 3 to 22mm
User-friendly software for programming
Automatic glass dimension reading
Arrissing of out-of-square pieces
High-powered spindles
Faster tool changers
Maximum guaranteed accuracy
Excellent polishing quality
Vertical CNC Centres
E-D 101, a vertical CNC centre, excels at grinding, milling, drilling and polishing rectangular and shaped flat sheet glass. This versatile machine combines vertical drilling and milling technology with vertical grinding features – allowing diverse processes at high speeds and precision.
The dual working heads process long sides simultaneously – saving time during grinding and polishing. Tool magazines with 10/12 positions per head are positioned in vertical columns near the working head for swift automatic tool changes.
E-D 101 works with 150 millimetre diamond wheel grinders – suitable for sheet glass – including laminated or treated glass. Polishing is effective on large surfaces with 150 millimetre wheels and small inserts either 30 or 50 millimetres in diameter. Opposite heads ensure speedy and precise drilling, with countersinking using individual diamond-tipped tools or accessories mounted on the drill bits.
The vacuum belt system offers significant advantages, guaranteeing drilling and milling without limitations and so enabling continuous operation without wasting time – a significant improvement over suction cups carriage solutions that instead necessitate waiting for finished pieces to unload before loading new ones.
Drilling and Milling
Drill 1600FF represents a five-axis CNC drilling and milling marvel – meticulously designed to produce holes, inserts and countersinks on rectangular flat sheet glass with a thickness that ranges from 3 to 20 millimetres. This ingenious machine boasts five axes, X Y V Z W, and two electrospindles acting as opposite drilling heads – creating a very precise, double-sided drilling system.
Meanwhile, Drill 101FF stands as a six-axis CNC drilling and milling wonder – expertly engineered for continuous drilling and milling on both rectangular and shaped flat sheet glass. Thanks to its ingenious vacuum belts system it ensures remarkably high-speed cycles – providing unrestricted drilling and milling capabilities, unlike other systems that face limitations due to suction cups, prohibiting holes or notches.
These vertical drilling and milling centres execute operations with optimum speed and precision – all under the seamless control of numerical management and supported by the convenience of double tool change. Milling on this machine is a swift, straightforward process – leveraging multiple tools to accomplish precise insert milling and grinding within seconds. The machine also enables delicate polishing of small inserts – employing 50 or 30 millimetre grinders.
Grinding, Arrissing and Polishing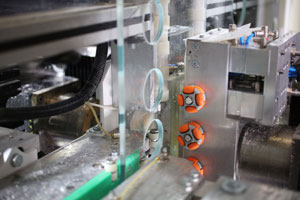 Skill Sfill is a vertical centre that specializes in the art of arrissing, grinding and polishing straight and shaped glass panes. This masterpiece boasts nine axes and two electrospindles mounted in parallel – empowering simultaneous processing with two heads. Edging and utilizing diamond wheels with a 150 millimetre diameter prove jointly efficient on both straight and shaped glass – including laminated or treated varieties.
Remarkably, Skill Sfill works with unaided precision, accommodating pieces of varying heights, widths and thicknesses without requiring operator intervention. The numerical control manages the entire process – expertly achieving top quality polishing through several passes and varying pressures of the polishing wheels on the glass.