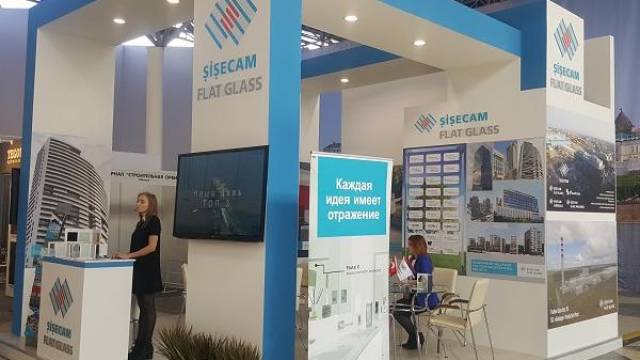 Sisecam Flat Glass exhibits its high technology products at VolgaStroyExpo 2017.
Sisecam Flat Glass, a subsidiary of Sisecam Group, exhibited its high technology glass products especially Sisecam Temperable Solar Control Low-E and Sisecam Temperable Low-E at VolgaStroyExpo 2017 in Kazan on April 25-28, 2017.
At the exhibition the visitors were informed by the Sisecam Flat Glass's high technology products especially heat control glass Sisecam Temperable Low-E Glass Neutral 71/53, heat and solar control glass Sisecam Temperable Solar Control Low-E Glass Neutral 62/44, Neutral 50/33, Neutral 71/43, Sisecam Solar Control Low-E Glass Neutral and Neutral Selective, safety and security glass Sisecam Ultra Clear Laminated Glass, Ecological Mirror Flotal E , (low iron mirror Flotal Ultra Clear, decorative varnished glass Sisecam Lacquered Glass and patterned glasses named "Puzzle" and "Stone."
Sisecam Flat Glass presented its Sisecam Temperable Low-E glass which reduces heat loss from windows by 50 % compared to traditional insulated glass unit. Therefore effective heat insulation in winter is provided and heating expenses are reduced. Sisecam Temperable Low-E glass eliminates cold spots in winter and heat inside the room is radiated equally. Also this glass offers best solution for commercial and residential buildings, where security is required.
Sisecam Temperable Solar Control Low-E Glass provides up to 50% savings in heating energy and effective heat insulation in windows. In addition to its heat insulating function, it also reduces solar heat gain in summer, providing savings in air-conditioning expenses.
Neutral 62/44 is prefered mostly in residence, school and hospital projects for its high light transmittence (%60) and optimum solar control (%43). Neutral 50/33 is preferable mostly in office and shopping mall projects for its optimum light transmittence (%49) and maximum solar control. (%33) Temperable products can also be coated on different colors of flat glass depending on the needs of the different projects. New product Neutral 71/43, besides its heat and solar control is prefered in the projects where transparency and low reflectivity is required, such as residences with view.