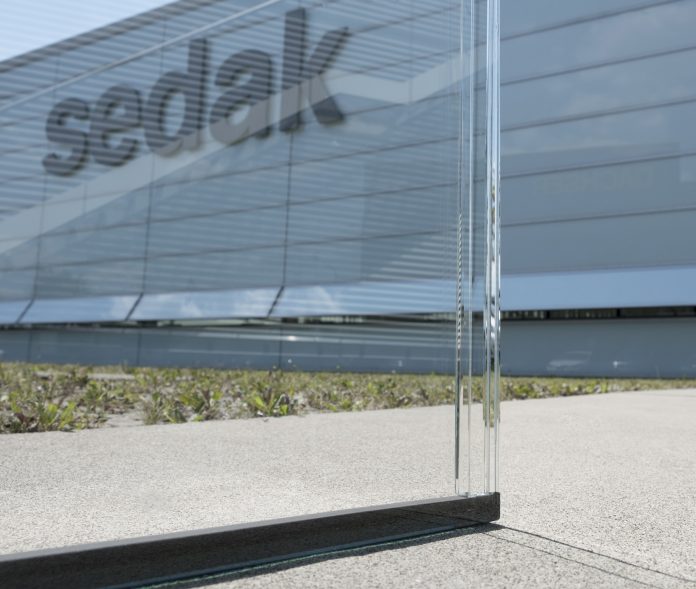 Sedak, a glass processing company presented two examples of products with functional transparency. Firstly, the glass impact and edge protection "sedak clear-edge" for parapets, handrails and edges of constructional glass building components, and secondly, a glass spacer for insulation glass "sedak isopure". Both innovations increase the level of transparency and offer functional solutions, especially in all-glass constructions.
"Sedak clear-edge" is a transparent, aesthetically attractive edging solution for exposed glass edges, for example on glass parapets or handrails. This special glass strip is laminated onto the edge, providing it with a neat and clean conclusion. With its highly polished sides and flat glass surface, "sedak clear-edge" sets functional and aesthetic accents. The open edge of the glass composite is protected from the influences of the weather, the laminated-on glass acts as protection against impacts, thus enabling two-pane laminates where the building regulations previously required three-pane laminates to be used.
"sedak isopure" insulation glass façades look even more transparent. These glass spacers, which are utilized on two sides of the pane, cause the joints between the glass elements to be optically dissipated. Sedak Managing Director Bernhard Veh explains that glass façades with "sedak isopure" are almost uninterruptedly transparent. In combination with glass fins as supporting structural elements, highly transparent glass façades with up-to-date energy standards can be created.