In the heart of London "22 Bishopsgate" soars 278 meters into the sky. But one of the most characteristic design features of the building is directly above the heads of passers-by: the glass canopies.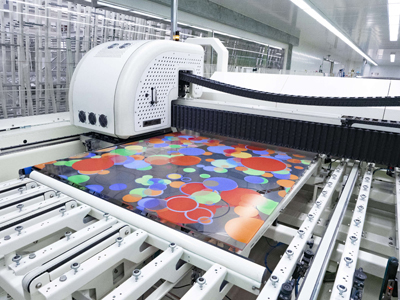 They consist of 149 laminates in total, colourfully designed by the artist Alexander Beleschenko. In order to print his designs accurately onto glass, a precise printing technique was necessary, and at the same time the glass itself needed to fulfil high technical demands.
The artist, who lives in England but has Ukrainian roots, found this technical competence in Germany, where sedak (Gersthofen) produces safety glass that met the requirements, both in terms of accurate printing and quality.
A strong, colourful counterpoint to the cool metropolitan steel and glass architecture: when you walk along underneath the protruding glass roofs of the new London landmark "22 Bishopsgate" you find yourself immersed in a joyful interaction of colour and light. The canopies are filled with blue, yellow, orange, red and green geometric shapes, sometimes opaque, sometimes translucent. Equally colour-intensive patterns, like huge brushstrokes on the glass surfaces, can be found on the glass façade and colourfully designed glass elements decorate some of the ceilings in the entrances, serving as friendly indications of where to go.
The lively design is strengthened by the many different formats of the glass. They vary in size and form: quadratic, trapezoid, triangular, free-form. No two glass elements are the same, each is unique, a highly imaginative work of art.
Alexander Beleschenko has been using glass to set identity-creating architectural accents for many years. For 22 Bishopsgate he was inspired by the traditional coats of arms of the trade guilds, which were omnipresent in (old) London. He reinterpreted them in a new, abstract way, thereby connecting modern with historic – a phenomenon that is part of everyday life in the British metropolis.