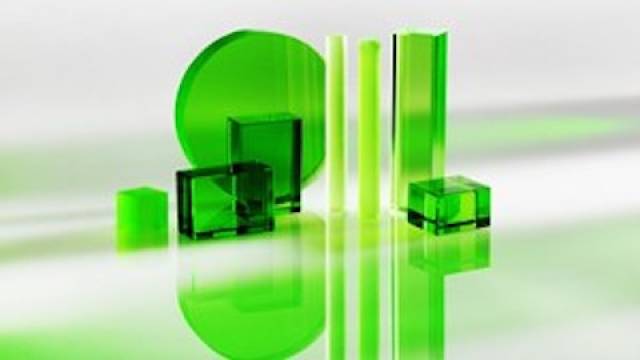 Schott recently presented its new "eye-safe" laser glass LG-960 at Optatec, in Frankfurt, Germany.
The laser glass is ideal for operation at 1.5 µm laser systems in range finding, LIDAR and medical applications. It will be offered as a laser component, finished to custom specifications with a high laser damage threshold dielectric coating.
"With LG-960, we have developed yet another laser glass for applications where eye safety is of great importance," says Dr. Marc Clement, Director of Business Development for Laser Glass at SCHOTT Advanced Optics. "Our new laser glass emits in the infrared range at an eye-safe wavelength of 1.5 µm. It is ideally suited for pulsed laser systems in range finding, LIDAR systems and for medical laser treatments in dermatology," he adds.
LG-960 is known for its outstanding thermo-mechanical properties and enables very high peak power and repetition rates during emission of light pulses. SCHOTT offers the new glass as fully finished components, which are customized to a particular wavelength and absorption spectrum for applications with flash lamp pumped or diode pumped solid state laser systems. These components are available as rods, slabs and discs.
SCHOTT has ranked among the world's leading suppliers of laser glass for more than 40 years. Consistent material properties, polishing and high-quality coating processes allow for a reliable high damage threshold – ideal for demanding pulsed and continuous wave (CW) applications. Besides active laser glasses, SCHOTT also manufactures passive laser components such as lenses, mirrors, laser windows, polarizers and beam splitters. SCHOTT is thus able to act as a single source for customers for all active laser glasses and complementary passive glass components to ensure proven SCHOTT quality and value throughout the entire system.