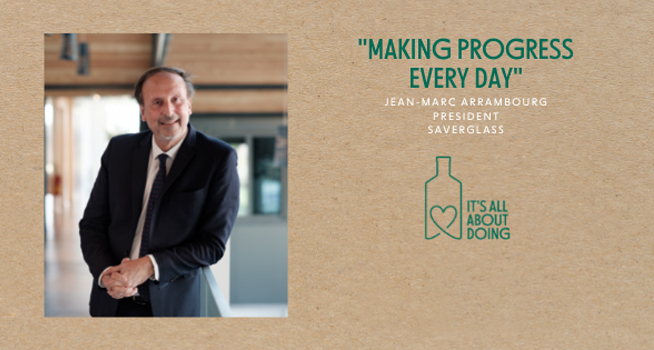 To Saverglass, mindful of its activity in creating premium glass bottles and the industrial challenges associated with it, the need to preserve environment and resources became quickly evident. Early on, the company optimized all of its processes by seeking both economic and ecological solutions
Year after year, these simple, pragmatic actions have been structured around a strong CSR (Corporate Social Responsibility) program, which today contributes to being a significant factor of the Group's overall strategy.
Saverglass invites you to discover key aspects of its program through three questions answered by the company President, Mr. Arrambourg, and learn more in a series of videos.
I – How is Saverglass Corporate Social Responsibility (CSR) a key improvement lever for Saverglass?
Saverglass' CSR strategy is nothing less than a reaffirmation of its raison d'être, its existence as a company.
The non-exhaustive and encouraging results confirms the pursuit of a balanced development for Saverglass and all the stakeholders of its ecosystem.
II – What are the ambitions and priorities of the CSR approach?
Saverglass has identified three priority areas of intervention:
Adapt its manufacturing processes to environmental challenges
Protect its employees and develop their potential
Act for society
III – What are Saverglass' best assets?
Saverglass' best assets are:
Professionalism, solidarity and the team spirit that drives the company
An unfailing commitment of the men and women of the company
The expertise of its partners
Saverglass is also strengthening its organization and changing its approach.