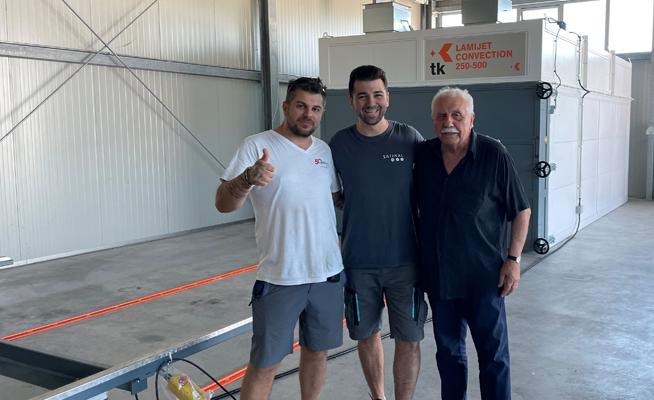 High technology and constant technical assistance are two of the major features of the Italian brand TK, which specializes in designing and manufacturing high-quality, innovative glass machinery Made in Italy and appreciated worldwide. Ovens for glass lamination, chemical tempering and Heat Soak are designed by an experienced team of technicians who rely on the best Italian technology and European components to meet quality standards and requirements.
The sales network has an ever-increasing global presence, with more than 260 plants installed in over 60 countries around the world: this is made possible by the careful work of the sales network and technical team. The latter works in close collaboration with customers and fully understands their needs, in order to provide the most appropriate and customized solutions, applying TK's proven methodology, which includes the following steps: alignment with customers' requirements, defining bespoke solutions, equipment design and development, machine manufacture, delivery and installation, staff training and after-sales support on site or remotely (thanks to the technology of the new TKonnect 4.0 and TKare systems).
A practical example of all this work is the latest TK installation carried out a few weeks ago: a Lamijet Convection oven assembled and installed by TK technicians in Nardo Vetro glassworks in Camponogara, Veneto, Italy. Much research and attention to detail led to the realisation of this furnace according to the specific customer needs, who was supported by the TK team throughout the development of the machine.
The Italian customer went through a careful and detailed analysis of all the competitors and solutions on the market but as safety glass manufactures finally recognized and choose the unique value added of the Satinal ecosystem. The only fully-made in Italy solution to produce safety glass, from STRATO® Glass Interlayer, to the TK Glass Machinery and the complete technical service.
Another important milestone for TK, which once again demostrates its careful commitment to being at the forefront of technology and innovation.
To contact Satinal for any further information:
E-mail: customer@satinal.it
Tel.: +39-031-870573