During the recent edition of Vitrum, Glass-Technology International spoke to Rollmac-Gemata about its most recent development in the glass printing sector. With glass sizes becoming bigger and bigger, and requests for digital printing more and more complex, the company has come up with a machine able to satisfy all these needs.

At Vitrum, Glass-Technology International spoke to Mauro Pellizzari from Rollmac-Gemata about the new machine – on show at the event – a digital printer using six colours, which can also be expanded to use up to 12 colours to carry out particular hues and specific RAL colours.
Glass-Technology International (GTI): Tell us something about this new machine on show here at Vitrum.

ALL KINDS OF PRINTING – WITH UP TO 12 COLOURS
Mauro Pellizzari, Rollmac: The machine here at our stand at Vitrum enables to print any type of photo or painting on glass thanks to its use of 6-12 colours. In terms of industrial applications, this means printing marble or wood designs on glass, also using metallic paints.
(GTI): In your opinion, could this type of printing take the place of satin- and acid-etched glass?
Rollmac: It all depends on the type of end product that you need but of course this is possible! Not for a single-colour satin-etched sheet of glass because it would be better to use a roller printer.
If, on the other hand, the end product involves a decorative item on the glass it would be better to use digital printers, especially if we are speaking about large areas. Just think about sheets of glass with shaded colour application, or the printing of marble designs, where the different panes need to be connected to each other to form wall areas, following the design.
Another possibility is that of glass used in home appliances – ovens and refrigerators, or cook-tops, for example.
But the main characteristics of this type of digital printing are the quality and resolution of the printing that can be obtained with this machine, along with flexibility with regards to the endless possibilities of printing.
(GTI): What about photos? Are we also speaking about personal photos – of family and friends for example?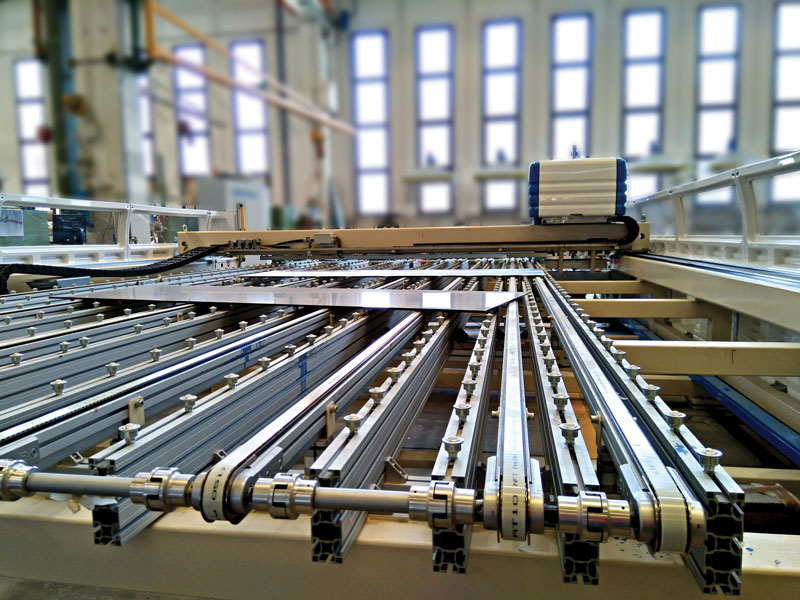 INDUSTRIAL APPLICATIONS
Rollmac: Of course! But this is more of a niche sector, because a machine like this is used more for industrial applications.
There is also the possibility of adding other colours to increase the variability of the designs, such as gold, silver and platinum metallic paints, anti-drip paints. This means that when you need to print a floor surface, instead of applying a chemical-type coating that will be subject to wear over time, the required design can be printed.
The possibility to add specific colours means that you literally have no limits to the end results you want to achieve.
This also has effects on the efficiency of the work being carried out, such as when printing an area of about 1,000 square metres in a single colour.

PRACTICAL ASPECTS: OPERATORS, GLASS SIZES, AND SPEED
(GTI): Let's look at the practical aspects of the machine – how many operators are require to operate this printer?
Rollmac: A single operator can manage this machine with ease. Once the printing information has been input, the machine carried out printing while the operator can start to prepare the next piece of glass to be printed.
(GTI): What sizes of glass can the machine print?
Rollmac: Glass size obviously depends on the size of the machine. The largest machine that we build is 3.600 x 6 metres – used for shop windows – where the same shop may also want to have its logo on the glass.
We (often) work and build our machines as per the feedback and requests we receive from glassworks, also and especially with regards to the combinations of colours that the machines uses to print. This means that starting from the 6-printing-heads format, we can reach up to 12 heads in line, or also a combination of 6+6, reaching higher printing speeds.
(GTI): Tell us a little more about speed …
Rollmac: The printing speed of the machine depends on a series of factors. For example, a machine with six printing heads, printing a highly-detailed design, prints one square metre in 8 minutes. The more detailed and high-resolution the design to be printed, the less speed the machine has. If we are printing a shaded-colour area, on the other hand, the speed can be much higher. All this is due to the size of the drops of colour that 'fall' onto the glass, and we want those drops to create a shaded effect or a highly-detailed and very small design. We are speaking about drops of picolitres – which are a trillionth part of a litre.

OFFERING A COMPLETE OFFER OF MACHINERY
(GTI): What do you offer glassworks as far as machinery is concerned?
Rollmac: Glassworks right now need to have a truly complete offer with regards to machinery and equipment. This aspect is important to be able to cover all the needs and demands of glassmakers, who, in turn, need to respond to market needs – and more importantly – to the requests coming from architects for incredibly large areas of glass printed digitally. And this is where we come into the picture, with our machines that can handle both large areas and the smallest, highly detailed decorations.

Rollmac – GEMATA
www.rollmac.it