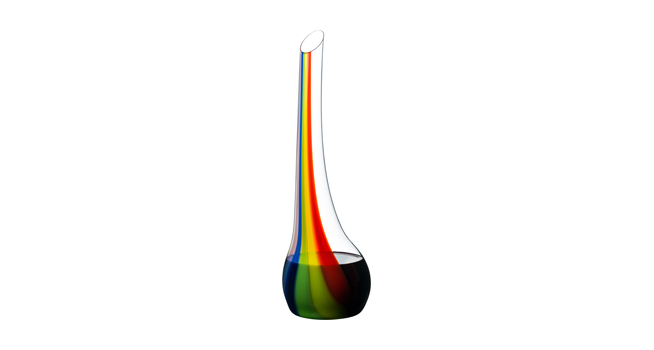 Glassware innovator, Riedel, has announced the continuation of its collaboration with the Sir Elton John Foundation, with the new Cornetto Rainbow Double Magnum.
Each of the 99 crystal decanters, handmade in Kufstein, will be engraved with Sir Elton John's original signature for the second time, following the success of the specially created decanter and collaboration launched in 2017.
This year the colours of the rainbow will again serve as an eye-catching design feature on the Cornetto Rainbow Double Magnum, representing tolerance, acceptance, diversity, hope and yearning.
"We are particularly honoured to be able to use Sir Elton John's original signature for the second time," said Maximilian J. Riedel, 11th generation and managing director of the family business. "It will be engraved on each of the 99 decanters. This makes each of the decanters a truly extraordinary, unique piece.
"Our limited editions usually comprise 50 units. But in this case, we decided to produce 99 in order to meet the international demand. In past years, the decanters were sold out as soon as they were available. I have the greatest respect for Sir Elton John's work and am happy to be able to support him in this way."
The limited edition magnum has a significantly larger capacity than the standard size. The production of the decanter is a highly complex and difficult process and can only be achieved by a glassblower in Riedel's factory in Kufstein. Sir Elton John's signature can be found on the numbered certificate, and each piece of the edition is unique and a work of art made of crystal glass and mouth blown.