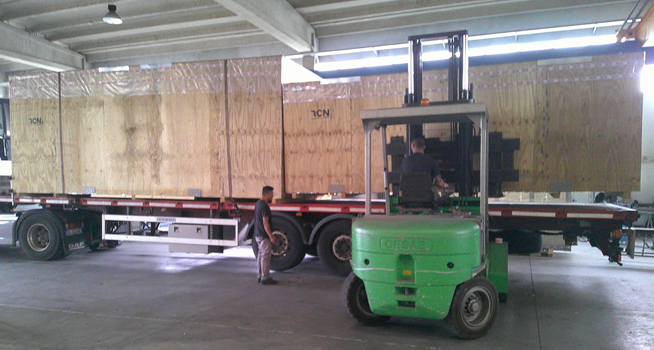 There is a lot of excitement at RCN for the first shipment of an important laminating project, including a special layout for a glazier company located in Dubai that needs to laminate large glass sizes.
One Lammy System 4+4, active size 5,100 by 2,600 millimetres, complete with storage unit with 5 positions and 4 additional shelves, has just been dispatched. The storage unit will be positioned next to the kiln, both served by one lifting platform of the same size. The customer will have at their disposal 8 complete laminating shelves to be interchanged into the two independent chambers for an expected production of about 1,000 square metres per day on two working shifts.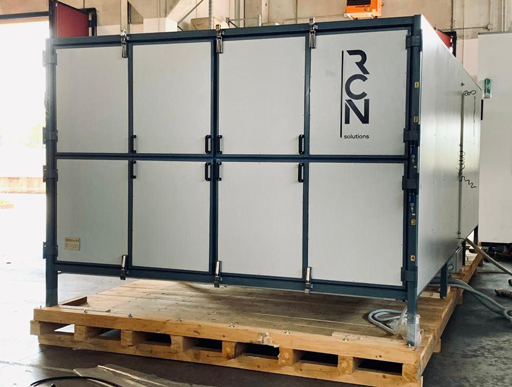 This first shipment is part of a project for a double laminating line, while the second part will include one jumbo size kiln, active size 6,000 by 2,800 millimetres, named Multiplied, and built in 3 modules to have it dispatched into one container to prevent the high shipping costs for oversized shipping.
That's an important reason for adopting such a construction scheme, but it is not the only one. This system allows customers to consider the flexibility of combining modules multiplying machine sizes up to 10 metres and over, responding to demands for oversized end products.
Muliplied will have its own lifting platform serving each shelf, and the components will be the same as the regular RCN construction, granting quality and performance. Both machines will have the the RCN EASY CONNECT APP installed for a permanent production control and machine monitoring.
Production will be completed by the RCN laminating interlayer, REVA BF and its refrigerated unwinding unit, with 4 internal positions for full, high quality output.
The Multiplied will be dispatched soon to complete the customer's machines fleet together with one preparation table equipped of top tilt system and ball-castors.