Complementing the wide portfolio of technical support already available from Promat UK, these new resources are designed to help specifiers make confident decisions on fire resistant glazing in applications where the protection of people and assets is critically important.
The easy-to-use new Promat UK glass product selector, available at www.promat-glass.co.uk, takes specifiers through the essential questions which need to be asked to make the right choices for fire resistant glazing at the design stage. These start with whether it is a complete system or only the glass required, moving on to questions about the types of glass required, whether a door features in the design, the desired framing materials and the level of resistance required. The outcome is a recommendation from Promat UK, based on its proven range of solutions, backed by decades of experience in the manufacture and testing of fire resistant glazing systems.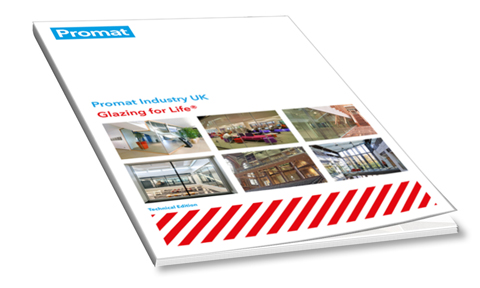 Promat UK's new 'Glazing For Life®' technical brochure provides greater insights for anyone seeking guidance on how to choose fire resistant glazing, and the numerous different solutions to consider from Promat UK. Originally published in 2017, the brochure has been downloaded hundreds of times to date, and this latest version contains an even greater wealth of technical information to assist with the specification process.
In conjunction with its RIBA-approved CPD seminar, 'The Burning Question', which is available to book online, and the SYSTEMGLAS® Specifiers Guide, anyone involved in the design and supply chain for fire resistant glazing can access a complete package of support from Promat UK with ease.
Ian Cowley, Regional Director (UK and Scandinavia) at Promat UK, said, "The development of our latest technical resources affirms our commitment to helping to educate the market about how to choose fire resistant glass and glazing systems. Underpinned by our 'Specified for a Reason®' ethos, our aim is to work with customers from the initial concept stage to ensure the correct solutions are always specified and installed.
"We have a wealth of technical expertise within Promat that can be of huge value to our customers – to help them to avoid the risks – and our range of resources is now more comprehensive than ever. This will be extended further later in the year when we launch another technical CPD seminar centred on our unique complete glazing system, SYSTEMGLAS®, along with a new edition of our SYSTEMGLAS® Specifiers Guide."
Based at its HQ and manufacturing plant at Heywood near Manchester, Promat UK is a market leader in thermal, fire and acoustic protection solutions. Part of the global Etex Group, the company manufactures high performance insulation for numerous hi-tech, engineering and industrial applications, as well as the building sector. These range from Formula One racing, train rolling stock and aircraft manufacture, to offshore wind turbines, the nuclear industry and white goods.
Find out more at www.promat-glass.co.uk.