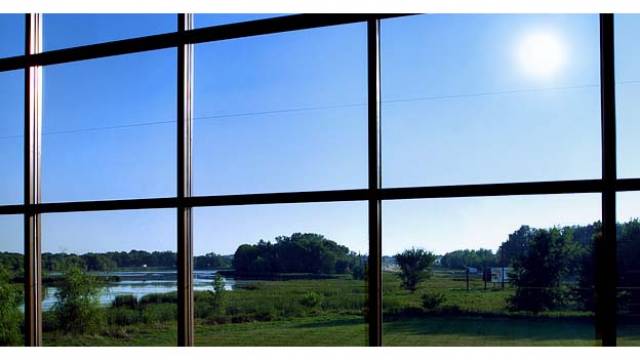 PPG SOLARBAN 70XL glass was used for the new facade
Thanks to the use of PPG SOLARBAN 70XL glass, a former concrete structure has been remade into a glass and terra cotta showcase of sustainability. The Lawrence Public Library in Kansas was also awarded a 016 AIA/ALA award.
A community eyesore for nearly 40 years, the Lawrence Public Library in Kansas was transformed by architects Gould Evans into a community showcase and an American Institute of Architects/American Library Association (AIA/ALA) 2016 Library Building Award winner.
Central to the building's revitalization was a new façade combining a high-performing terra cotta rain screen and energy-efficient, transparent SOLARBAN® 70XL glass by PPG. The materials, which envelop a 20,000 square-foot reading room wrapped around the library's existing concrete façade, combine with open interior design and a more intuitive wayfinding system to reconnect the library to residents and the surrounding landscape.
With visible light transmittance of 64% in a standard 1-inch insulating glass unit, Solarban70XL glass bathes the interior in sunlight, while the glass's exceptional solar control performance makes it integral to the façade's continuous insulation system. Despite being 50% larger, the refurbished structure consumes 50% less energy than before and was designed to achieve LEED® certification at the Silver level.