NSG Group announced that energy-saving View Smart Glass, electrochromic (dynamic light control) windows, were adopted in the new Kudan Kaikan Terrace (Chiyoda-ku, Tokyo) in Japan.
View Smart Glass, developed by US-based View, Inc., changes the tint of the electrochromic film, which is composed of a transparent conductive metal coated on the glass surface, by applying controlled voltage. It can change the transmittance of visible light, UV rays and solar radiation. The tint can be adjusted in four stages to suppress light transmittance to a minimum of 1 percent without using blinds or sunshades. To date, many facilities such as offices, schools, airports and hotels in the United States and other countries have installed the windows.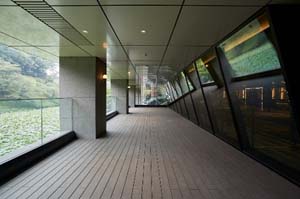 At the Kudan Kaikan Terrace, which was one of the first office buildings in Japan to utilize View Smart Glass, the incorporated IGU is installed on the office entrance, the plaza as a node to each area and the first floor. Using data from multiple sources, including sensors installed on the roof of the building, artificial intelligence automatically determines how much to adjust the transmittance of the glass, optimizing the amount of natural light and heat entering the room throughout the day. With this technology it is possible to reduce energy consumption for air conditioning and lighting, while ensuring a beautiful view of the Palace Gardens without any restrictions.
Relationship between View, Inc. and NSG Group
NSG Group has a long-term cooperative relationship with View, Inc. from the initial development stage of the product to the present. Both parties fully cooperated in the adoption and delivery of this product for the Kudan Kaikan Terrace project. Both are also planning to continue co-working on future expansion in Japan, for the time being limited to large-scale projects.
NSG Group is promoting "Expansion of Value-Added Business" as one of the measures listed in the medium-term management plan "Revival Plan 24 (RP24)." The announcement to expand proprietary products is part of this strategy. The Group will continue its efforts to realize its Medium-Term Vision to be "A global glass supplier contributing to the world with high value-added glass products and services."