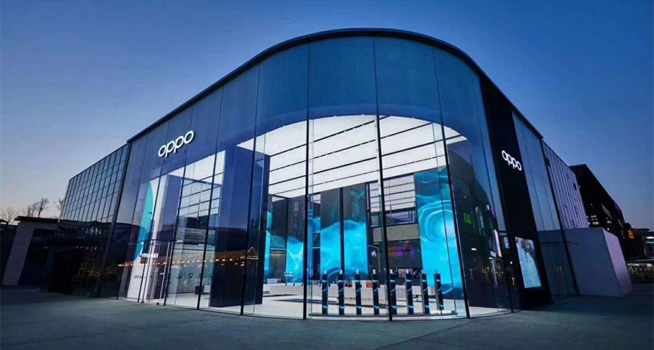 OPPO is a Chinese consumer electronics and mobile communications company and recently, OPPO Beijing Super Flagship Store was officially opened in Beijing Huaxi LIVE Wukesong, the third super flagship store after the ones opened in Shenzhen and Shanghai. In the new store was applied the new brand vision system and in the the same day the new product series, OPPO Reno, was launched, bringing to customers a completely new brand experience.
OPPO Beijing Super Flagship Store uses "technology white" design to bring to customers a free and borderless space experience, creating an interesting and intelligent interactive experience with innovative technology, which is the latest achievement of OPPO in exploring and innovating their characteristic retail mode.
With the Super Flagship Store as the frontier, OPPO is devoting every effort to promote the optimization and upgrading of offline retail system. Under the creative concept of "freedom" and "borderless", the design team focused on the design of glass curtain walls. The Beijing Flagship Store, which covers an area of more than 300 square metres, has adopted a great quantity of transparent super-large panel structure energy-saving glass, creating a distinctive brand image for the project. All the glass is provided by Tianjin Glass Company, a subsidiary of North Glass Co. Ltd.
The appearance of OPPO Super Flagship Store adopts 3 metres by 12 metres giant energy-saving structural glass panes coated with layer of a high transmittance metallic membrane. This ensures the energy-saving effect of these large plates without reducing the light transmittance of the curtain wall glass.

The straight corridors and the corner position are spliced and installed to achieve the visual effect of flat and curve as an organic whole. In addition, the upper part of the curtain wall is in harmony with the sky, and the lower part reflects the surrounding environment. The upper and the lower parts are naturally combined with the transparent inner and outer, forming a "hidden" technology architecture.
Technology can break through reality and the space is free flowing, good design has its temperature, people can feel it and resonate with it. Instead of artificially making "hot spot" marketing, it is better to design and build a special glass architecture, letting people naturally discover space.