From November 14 to 17, 2019, the theme Forum "China · New Reality" sponsored by AIA (The American Institute of Architects) International Region and AIA Shanghai Branch and undertaken by NorthGlass and other companies was held at Mandarin Oriental Pudong, Shanghai.
Based on China's development and current situation, this activity analysed the advantages and challenges of China's architecture from the perspectives of design aesthetics, climate and environment, humanistic care, healthy and liveable life, community planning and future development. Combined with international cases and experience, the activity also shared the original views and ideas of the masters, which not only resonated widely, but also played a positive role in the innovation and development of China's construction industry and external exchanges.

Li Chunchao, the representative of Tianjin NorthGlass was invited to attend the event and delivered the keynote speech "High Quality Super Glass Winning the Future", and introduced the participation of NorthGlass in construction projects around the world in recent years.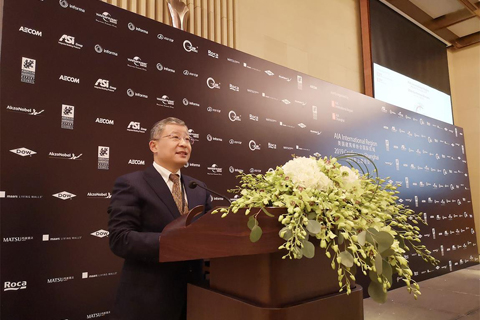 On November 18, the Forum moved to the Beijing Phoenix Center. Under the visual impact of the winding and bending curves brought by Mobius band, and in an atmosphere of art and beauty, the forum had an in-depth communication and discussion on the inevitable impact of China's current economic downturn and the industry, as well as how architects adhere to their ideals and visions in coping with new challenges and obstacles.
Mr. Thomas Vonier, the chairman of the International Association of Architects (chairman of 2017 AIA), Mr. Zhou Wang, chairman of the AIA Shanghai branch, Mr. Shao Weiping, chief architect of Beijing Institute of Architectural Design, Mr. Wang Hui, founding partner of URBANUS made a wonderful theme reports. Gao Qi, vice president of NorthGlass and general manager of Tianjin NorthGlass, made an excellent speech, introduced the curved globular glass applied in Huawei's global flagship store, the smart glass with sunshade net applied in Beijing Daxing International Airport, which has been collected by National Museum of China, the small radius semi- toughened glass applied in the National Speed Skating Hall, and the cutting and hot-bending glass applied in Shanghai Nike001 flagship store, etc.
These high quality projects and high quality glass have opened the eyes of architects and made the brand more deeply rooted in the hearts of these top designers.
In addition to many big names and to the high level of content presentation, the success of the forum is attributed to the organizers, NortGlass and Dow. As the peak representative in the field of architectural glass and architectural glue, one comes from China, the other comes from the United States, but they are all internationally famous, they use super quality and leading technology to interpret and deliver: China, the United States, all belong to the world.

www.northglass.global