Recently, Nanjing City Wall Museum was opened for trial operation. The museum has a total construction area of about 13,000 square metrs. As a glass supplier, Shanghai NorthGlass provided polymer material interlayer insulating curtain wall glass with a maximum height of 7 metres for this landmark building.
Curtain wall glass embedded with high polymer mesh and high-performance solar thermal protection film can effectively improve energy savings and consumption reduction.
The curtain wall glass used in the museum exterior design is a special fabric material built in the glass interlayer of NorthGlass. It is a one-way visual effect glass made through a complex process with strong metal texture. Visitors see a mirror appearance of the environment from its exterior, while the glass curtain wall will be transparent from inside.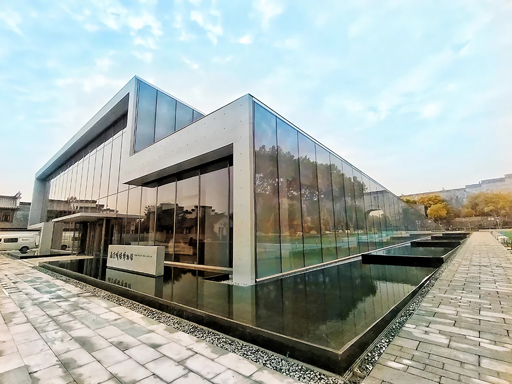 This kind of polymer material mesh has no existing paragon in China for applications of large glass. The biggest difficulty of this glass is in keeping the soft polymer mesh smooth when tiled on SGP film, and not distort and shift in the high temperature and high pressure of the gluing process.
NorthGlass adopted a special technology to finally achieve the ideal effect after repeated experiments. The curtain wall glass was made under construction. On the one hand, it can enhance the overall structure of the museum, making the curtain wall with a vivid 3D visual appearance, and ensure the transparency of one-way vision. On the other hand, it can also reduce energy loss, effectively prevent light pollution and prevent bird impacts.