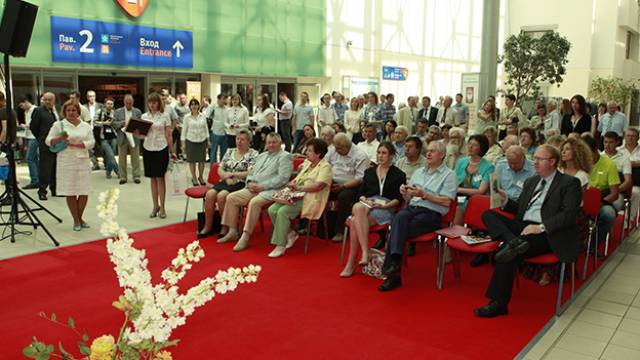 Mir Stekla 2015 – the 17th International Exhibition for Glass Products, Manufacturing, Processing and Finishing Technology – opened its doors yesterday in Pavilion No.2 (Halls 1, 2) of Expocentre Fairgrounds.
The international exhibition for glass products, manufacturing, processing and finishing technology Mir Stekla 2015, is a milestone event for the glass industry enterprises. This year's event runs from 8 to 11 June in Pavilion No.2 (Halls 1, 2) of Expocentre Fairgrounds. Today it is the largest show for new products in the glass industry in Russia, the CIS and Eastern Europe.
Mir Stekla 2015 is held by Expocentre and the United National Council of the Glass Industry Enterprises StekloSouz. The show is supported by the Russian Ministry of Industry and Trade and runs under the auspices of the Russian Chamber of Commerce and Industry.
Mir Stekla 2015 has 200 participating companies and enterprises from 22 countries such as Austria, Belarus, Belgium, Bulgaria, China, Croatia, the Czech Republic, Egypt, Finland, France, Germany, Hungary, India, Israel, Italy, the Netherlands, Russia, Switzerland, Turkey, the UK, Ukraine, and the US.
Italian and Chinese companies have national pavilions, with participants such as Lisec, RHI AG, BDF Industries, Ermi77, Leybold Optics, Buhler AG, Horn Glass, Ayrox – Softeco, Hegla, Bystronic Glass, Revimac, Tecoglas, Cnud-Efco, North Glass, Mountain Glass, Glasmaschinenbau Freital GmbH, Grenzebach Maschinenbau GmbH, Saint Gobain, Bottero S.P.A., Glass Service S.R.L., Heye International, Landglass Technology Co. Ltd., MSC& SGCC, Glaston, Omco Croatia, and others.
New products and glass manufacturing equipment and technology are being showcased by 80 Russian exhibitors, among them KAMI Machine Tool Trade Association, Utah, Salavatsteklo, Saratovstroysteklo, HFD House, Vremena Goda, Bashkhim, Lazurnoe, Steklocentr, Specmash, Polema, Adem and others. The newcomers to the trade show are Lisma, Lorado, EtiProducts, and many others.
The fair takes up 5,000 sq.m. of exhibition area, and features the following thematic sections: modern means of glass production and processing; glass application; tools and auxiliary equipment; test and regulating equipment, software; transportation and storage of glass; design workshops, research institutes, schools, and industry associations.
Visitors to the ArtGlass Salon will get familiar with bright exhibits that is implementation of the most unexpected and creative ideas in interior design and décor items. Well-known Russian and international craftsmen will demonstrate their best works and different art glass techniques at this Salon.
An essential part of Mir Stekla 2015 is its comprehensive program of accompanying events, which features forums, seminars, conferences, and presentations.
A key event of the business related program is the International Forum on Glass and Modern Technology – the 21st Century.