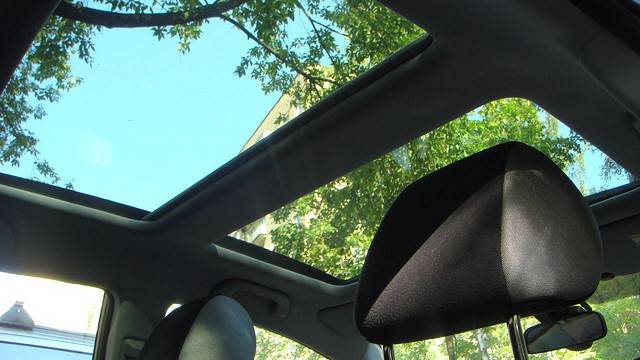 Member nations agreed to negotiate the rules for panorama sunroofs based on tests conducted by the Korean Ministry of Land, Infrastructure, and Transport.
In a meeting held last month in Geneva, Switzerland to discuss issues related to vehicle regulations within the framework of the World Forum for Harmonization of Vehicle Regulations (WP 29), the member nations agreed to negotiate the revision of rules on the car's panorama sunroofs.
At the meeting, representatives from the Korean Ministry of Land, Infrastructure, and Transport proposed that the rules on ceramic coating on tempered glass be revised and its coating area be restricted.
The proposal was based on the ministry's tests on panorama sunroofs in which the coating area accounting for 30 to 70 percent of the sunroof area was found to be more fragile than a regular glass pane. Earlier this year, the Transport Ministry had made preliminary conclusions that all the 650,000 cars (in 55 models) equipped with panorama sunroofs are defective in that sunroofs covered with tempered glass may shatter completely on collision.
In acceptance of the proposal, WP 29 will create an informal meeting in order to discuss the panorama sunroof rules.
A Korean ministry official commented, "The fact that WP 29 would form an informal meeting means the members are willing to revise the rules. We expect the rules to be revised in the WP 29 regular meeting next month in Geneva."
The informal meeting will be headed by Korean representatives. This is the first time Korea has taken the initiative in automotive-related international rule making.