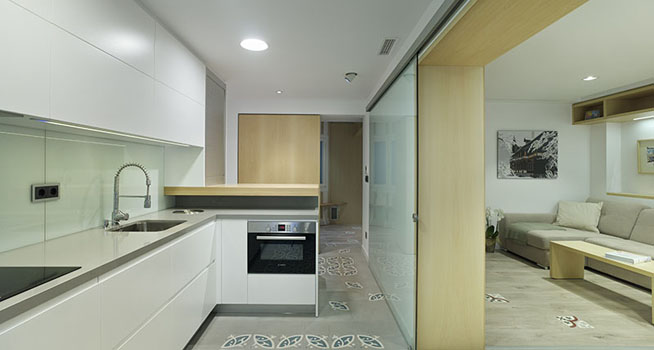 Klein saw the need and put their experts to work in designing an even larger clamp, able to fasten onto a greater surface area, to support heavier glass panels without the need for floor tracks or drilling in the glass. Rollglass+ 150 and Unikglass+ 150 both include the KSC (Klein Soft Closing) braking mechanism.
With any new product in Klein's architectural glass walls line, it's important to conserve the characteristic elements of minimalism and total transparency of the company, regardless of size. And at Klein feel like they achieved this with the new "150" products.
Klein's goal is for their clients to be able to integrate even more stunning frameless glass applications into their projects, with even greater passageways that are completely clear of architectural barriers.
Not sure whether Rollglass+ or Unikglass+ is best for your project's architectural glass walls?
Here's a quick comparison of these two popular door options:
Rollglass+ creates a glass front that combines fixed and mobile glass panels on a single track. It can be hidden in a drop ceiling for a completely minimalist effect. It has a light, elegant design. Versatile and flexible, it allows for various combinations, down to the smallest detail.
Unikglass+ has a discrete profile that guides a single mobile glass pane. It can be hidden in a drop ceiling for a completely minimalist effect. This system does not have any tracks or other architectural barriers on the floor. It allows for an easy and completely intuitive assembly.
Both wall systems are offered in three different metal finishes: black, bronze and silver.
Visit the Klein Braking Systems page to learn more about KSC, offered exclusively on the Klein+ lines.