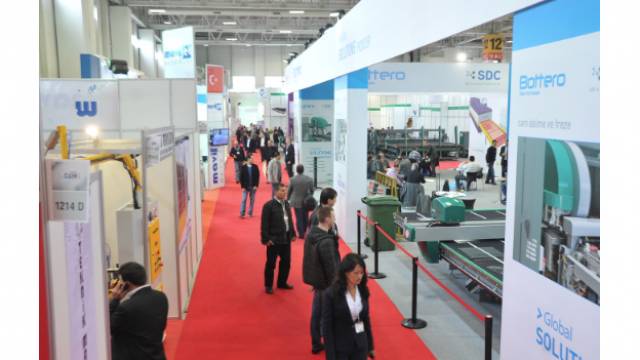 Istanbul Window, Istanbul GlassExpo and Istanbul DoorExpo 2014 will be taking place concurrently 12-15 March 2014 at TÜYAP Congress and Convention Center in Istanbul, Turkey.
Istanbul Window 2014, the 15th International Window, Window Shade, Facade Systems and Accessories, Profile, Production Technologies and Machinery, Insulation Materials, Raw Materials and Auxiliary Products Fair, Istanbul GlassExpo 2014, the 4th Glass Products and Applications, Production-Processing Technologies and Machinery, Auxiliary Products and Chemicals Fair and Istanbul DoorExpo 2014, the 6th International Door, Shutter, Lock, Panel, Board, Partition Systems and Accessories Fair will be the right place for companies seeking to exhibit product innovations and high technology for the window, glass and door industries. The concurrent fairs also will be the centre of attraction for industry professionals from all over the world on 12-15 March 2014 at TÜYAP Congress and Convention Center in Istanbul, Turkey.
The concurrent fairs Aluminium Special Section (Aluminium-Composite Processing Technologies, Machinery, Product, Accessory and Raw Materials) including Aluminium Profile and Profile Processing Companies, Companies Producing Supplementary Profiles and Other Auxiliary Products, Aluminium Window Mechanisms, Stair Rails and Banisters Systems, that will be located in Istanbul Window Fair, will also create an opportunity for the exhibitors to follow the innovations and technology in aluminium sector.
In 2013, the concurrent events, Istanbul Window, Istanbul GlassExpo and Istanbul DoorExpo took place on 80,000 sq.m. exhibition space in 10 fully occupied halls with the participation of 595 companies and company representatives from 22 countries and drew great interest, especially from international professionals. Achieving an increase of 22% in international visitors from 90 countries, the trio exhibitions hosted 52,536 visitors of which 5,823 were international.
By gathering topical issues the sector professionals and buyer delegations from 30 countries including Germany, Albania, Azerbaijan, Belarus, Bosnia Herzegovina, Bulgaria, UAE, Algeria, Morocco, Palestine, Georgia, Iran, Montenegro, Kazakhstan, Kosovo, Libya, Lebanon, Macedonia, Egypt, Moldova, Poland, Russia, Serbia, Syria, Saudi Arabia, Tajikistan, Tunisia, Ukraine, Jordan and Greece; the fairs took great consideration of overseas markets of window, glass and door industries and provided significant business agreements to be realized during the exhibition.
In 2014, the concurrent fairs, once more, will provide an effective trading platform for the companies operating in the sector of window, glass and door industries with the synergy between the sectors and the buyer delegations of the related industries from the target geography.