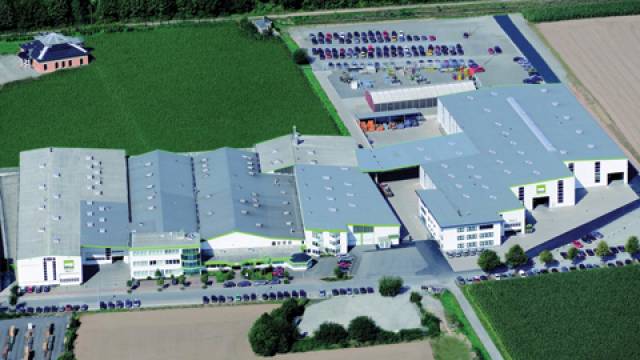 Both companies look back on two years of cooperation in the UK and look ahead to a shared future of excellence in the glass manufacturing market.
In late 2016 Hegla as an international company celebrated more than 40 years as a market leading machinery manufacturer specialising in glass cutting technology. The entire team has worked tirelessly to provide the glass industry with technical solutions that offer strategic advantages in relation to real-time benefits. The high calibre standards of the range have been designed and developed over this time with meticulous attention to detail put into all concepts in order to provide the highest impact on production line efficiency.
Joining forces with the service and spares division of glass machinery specialist Bystronic UK two years ago, a company whose head office also recently celebrated a milestone 50 years in the business, has led to positive results for both parties. The quality standards associated with the brands are recognised globally and Hegla UK's reputation for excellence has grown quickly, with the company now also celebrating 15 years of success in the industry this year.
Ensuring that a manufacturing facility can run at peak performance is a critical part of any Hegla evaluation. Introducing faster methods of production that drastically reduce handling times and material loss with equipment such as the ReMaster, the Galactic or the Rapidstore will guarantee to improve output as well as profit margins. Fully understanding customers' manufacturing requirements and developing tailored solutions is the key to success for the Hegla team as well as its customers. After developing and preparing factory layouts with spreadsheets for justification, a dedicated team of experienced specialist engineers in the UK and Germany ensures that installation, commissioning and start up of the equipment is an easy transition that runs smoothly to meet the demands of the customers.
The preferred partnership cooperation between Hegla and Bystronic launched new measures in the UK which took progressive steps forward by offering the industry the best in terms of optimum product performance, customer care and service support.
For those evaluating production output, there is little room for error particularly for investors making future business plans in the current uncertain European climate.
While the technical advantages of the entire Hegla range stem from many years experience in machine development, a key aspect of the company's success can be simply attributed to understanding the needs and demands of the market as a whole. Repeatedly customers endorse the advantages of the machinery as well as the entire team's ability to easily accommodate their individual needs.
Technically both companies offer vast experience and understanding of an industry that continually changes. Consistent quality is combined with appreciating the demands put upon glass processors as markets fluctuate, with knowledge and vast technical support available at every stage of any project.
Hegla remains in complete control of manufacturing and building each and every piece of equipment in-house to the highest specifications, as does Bystronic, which has a long standing reputation for excellence in relation to machinery and service — distinctive traits that both companies are very proud of and that customers readily sanction.
Future Potential
Achieving growth is naturally the target for all Hegla UK and Bystronic UK customers, a target which both Steve Goble and Steve Powell consider comes from investing in real assets that will not only pay for themselves but that will last.
For longstanding customers such as Mid Devon Glass, Village Glass, Clayton Glass and Dual Seal the Hegla brand is synonymous with value, reliability and distinction.
Hegla's passion and commitment to quality engineering impressed Kevin Squib, Managing Director at Mid Devon Glass many times. For him, there has never been any never any doubt about the technology and support from dedicated engineers with a full understanding of the production requirements and the company's potential. With investments in products including laser technology, Hegla cutting lines as well as an automatic insulation glass line, the production floor is now extremely simplified thanks to the automated processes that have been integrated.
Kevin said, "Our investment in Hegla has always been geared towards improving services for customers with a view to providing a broader product range and more efficient deliveries."
Likewise for leading manufacturers Village Glass and Dual Seal investment in Hegla equipment has enabled both companies to set new standards in the domestic and commercial markets due to the superior capabilities of the equipment.
Ryan Green, Managing Director at Clayton Glass commented, "Technical investment at the company is essential because of the increasing market demands in relation to product specification and quality standards. Quite simply, the equipment we have installed was chosen because of the superiority and reliability of the Hegla /Bystronic brands."
Steve Goble, said, "As Helga UK, Hegla and Bystronic glass all reach major milestones in terms of experience and precision engineering. Through our customers' repeated success stories it demonstrates the durability and consistent quality standards associated with the products."
Steve Powell added, "The UK is a unique market and we work closely together to provide improved customer satisfaction and believe the innovations, paybacks and excellence allied to German engineering will continue to motivate investors."