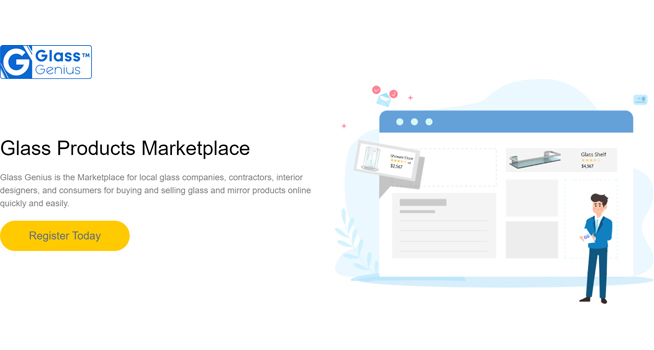 Glass Genius – a one-of-a-kind online marketplace that connects contractors, interior designers and consumers with local glass fabricators, distributors and installers – is offering local glaziers the opportunity to broaden their customer base and reach consumers nationwide.
Glass Genius offers multiple benefits to local glaziers. This online platform is a first-class marketplace for all kinds of glass products. The company ensures that sellers can feel confident in knowing that buyers who visit the site are dealing with highest quality glaziers with the best products.
Glass Genius is a seller-friendly portal built to help local business owners increase its sales. Local glaziers can take advantage of this marketplace in just a few easy steps:
Create a seller account;
Add price listings for custom fabrication, glass and mirror products, and installation services;
Select the geographic area you are operating in; and
Start selling.
Glaziers working out of small, local shops will now have the opportunity to showcase their work nationwide. Increasing the size of a seller's potential client base allows for incredible opportunities to expand their overall business. With minimal effort for sellers, Glass Genius offers the opportunity to reach thousands of new customers.
The platform is free to join and ensures timely payment for all sales. Sellers receive commission charges only when they receive business from clients. There are no hidden charges or extra fees, whatsoever. The best part about selling through Glass Genius is that the site does the marketing work for sellers so they can focus on what they do best: produce quality, custom glass products for sale.
Glaziers can sell a variety of ready-made products or custom cut glass, including:
Glass top tables;
Shower doors;
Glass shelves;
Mirrors;
Glass boards;
Glass sneeze guards
Frosted glass;
Cabinet glass;
Tempered glass;
Insulation glass;
Silk printing glass;
Laminated glass; and a lot more
For more information or to sign up visit https://sell.glassgenius.com/marketplace.