Gerresheimer is the market leader in the production of cosmetics packaging made of recycled glass. In addition, the Gerresheimer plants in Momignies in Belgium and Tettau in Germany enjoy a very good reputation with their often long-standing customers.
As centres of excellence they specialize in the development and industrial production and decoration of glass flacons, jars and bottles for fragrances, decorative cosmetics and beauty care. Numerous well-known cosmetic brands in the mass and prestige segment rely on the experience and know-how of the cosmetic glass experts at both locations. Gerresheimer is also setting trends in terms of sustainability and is currently expanding its stock of cullet in Tettau.
"We have been using recycled glass for cosmetic packaging for over 10 years and are market pioneers in this field," said Nicola Balena, Vice President Global Business Management Cosmetic Moulded Glass. "Our recycled glass flacons have convinced many of our customers who want to improve the sustainability of their packaging without compromise. We are committed to the recycling economy and only produce cosmetic packaging with a high percentage of recycled glass. In this respect we are ahead of the market."
In collaboration with its customers, Gerresheimer has developed a cosmetics glass with the highest proportion of recycled material available today for the end consumer and at the same time offers an unparalleled level of quality.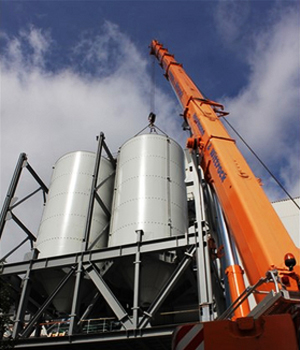 At Gerresheimer Tettau the "PCR – Post Consumer Recycling" method is used. This means that so-called post-consumer waste is reprocessed, i.e. glass waste produced by consumers in households and offices. Gerresheimer Tettau therefore uses existing resources for the manufacture of its glass products. In order to safeguard the demand for used glass, the batch house was extended during a two-month construction phase. Two silos – twelve meters high and with a weight of 26 tonnes – were createdand in each one of them can be stored 270 tonnes of cullet.
"In future we will need even fewer raw materials, we have reduced energy consumption and lowered CO2 emissions," said Kay Rohn, CEO of Gerresheimer Tettau, explaining the latest investment. The use of three percent cullet in glass production means energy savings of one percent. The proportion of cullet used in glass production can in future be up to 40 percent. This will make the entire glass production process even more efficient and sustainable.
Gerresheimer as a partner to the cosmetics industry
Gerresheimer's portfolio comprises innovative glass and plastic packaging for perfume, cosmetics and personal care. It has a large number of standard shapes as well as customized packaging to meet individual requirements. As a leading partner for selective cosmetics and mass and mass markets, the company offers sustainable and state-of-the-art technologies, individual finishing and decoration techniques and various materials for the production of high-quality packaging solutions.