Modern architecture makes great use of glass – in both interior and exterior applications. In this article, we take a look at one of the products of Formator – heated glass – that is already used on more than 60 cruise ships, as a heating system to achieve maximum comfort in residential homes.
Formator Safety Glass was founded in autumn 2003 by IMSA Group and, over these 15 years, has grown fast, satisfying ever-increasing customer demands for safety glass products.
Formator products are delivered all over the world, and include tempered glass, laminated glass, screen-printed and enamelled glass, as well as special glass products, such as privacy glass, electrically-heated glass, anti-hurricane glass, privacy glass, LED glass etc. New products are developed continuously.
HeatVision®
HeatVision® is Formator's multifunctional electrically heated glass for a wide range of interior and exterior applications in buildings.
Formator is the leading supplier of electrically heated glass for marine applications in Europe, counting more than 60 cruise ships where its glass has been installed over the past 10 years. Formator also offers HeatVision® glass for a wide range of interior and exterior applications in buildings.
HeatVision® as a primary heating source in buildings
HeatVision® glass can be used as a heating system to achieve maximum comfort in residential homes.
The electrically heated glass at the surface temperature of 26–28°C triggers transfer by radiation, bringing the entire room to a temperature of 20–22°C. Heat is evenly distributed throughout the entire space, ensuring a high degree of comfort.
The dimension of the heated glass depends on the level of thermal insulation of the building, and should be between 10 and 30 per cent of the floor area of the room.
This heating system should not be confused with glass radiators, which are heated to very high temperatures (60-90°C).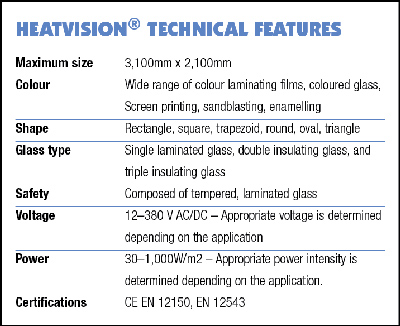 HeatVision® as anti-condensation glass
HeatVision® anti-condensation glass raises the glass temperature beyond the dew point to prevent condensation.
It can be used for a wide range of applications: in doors and windows in rooms with high humidity, in indoor glass partition walls, glass roofs.
Major benefits in interior use:
invisible heating source (no visible wires);
it can be used in single laminated glass, double insulating glass and triple insulating glass;
excellent comfort in heated areas;
no cold spots near windows;
no condensation on windows;
reduction of health problems associated with forced hot air systems (e.g. dust, mites);
no need for costly under-floor heating, heating plants or hot water circuits;
100 per cent green technology if used in combination with renewable energy sources;
no maintenance.
Where it can be used:
in insulating glass units, installed in traditional windows or in all-glass façade systems;
in offices as partition walls, one glass can heat two rooms. The glass is safety laminated with acoustic PVB, so safety and noise reduction are also guaranteed.
HeatVision® as snow melting system for overhead glazing
Heavy snow loads can cause glass and its related structures to collapse, if proper snow removal techniques are not put into use.
HeatVision® heated glass can solve the problem of snow accumulation on glass roofs, greenhouses, conservatories and canopies. When the snow sensor detects snowflakes, the glass automatically begins to heat, melting the snow. The surface remains clean the whole time as the heated glass turns the snow into water.

Benefits in exterior use:
Invisible heating source;
Low energy consumption;
No risks of collapse;
No condensation on the inner side of glass;
No maintenance.
Where it can be used:
Glass roofs;
Glass greenhouses and conservatories;
Glass floors and staircases;
Glass canopies.

Formator – Sigurnosna Stakla Doo
www.formator.hr