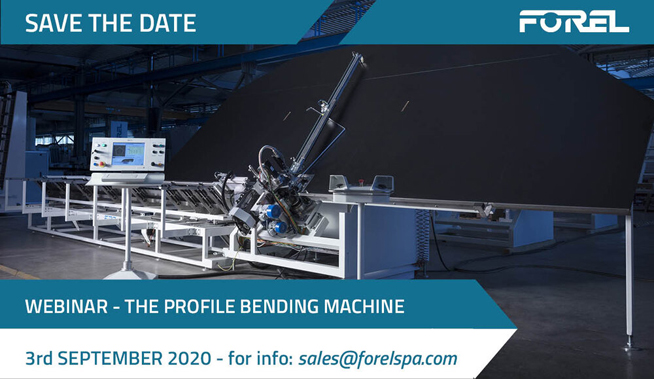 After the success of the previous appointment, Forel will hold its next technical webinar on 3rd  September 2020, to present one of its best selling machines.
The appointment will be dedicated to the Profile Bending Machine Art. PB, a fast and reliable solution for the processing of rigid frames, with a special attention to the new plastic and warm-edge technologies. This machine, largely appreciated by the market, is equipped with many remarkable solutions to bend different materials (aluminium, plastic, hybrid, galvanized steel and stainless steel) always with the same astonishing precision while respecting all the technical features of each type.
A special focus will be dedicated on the exclusive "Smart Arm", a Forel patented device to support the frame, which allows the Art. PB to also process big size profiles without any risk of breakage or deformation. All the features, patents and performance of Art. PB will be explained during the session.
This Webinar is reserved to glaziers. For more info, feel free to send an email to sales(at)forelspa.com.