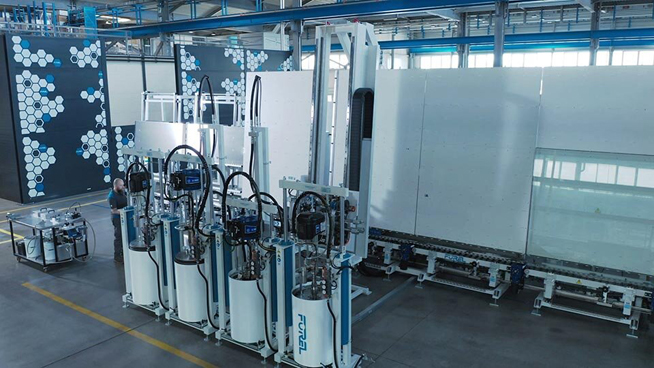 The "High Tech" IG line evolved from the best of Forel's latest equipment, mainly dedicated to the production of double, triple and even quadruple insulating glass units for both residential and commercial architecture.
"High Tech" IG line by Forel can process assembled glass units up to jumbo size, weighing 400kg (880 lb) per linear meter, and up to 100mm (3.9") thick. Completed by a choice of exclusive devices and patented systems for processing also offsets and shapes, with astonishing quality. It can process rigid, flexible or thermoplastic spacer.
In the video, we can see the processing of a Jumbo version of the "High tech" IG line. The glass sheet enters at first in the Vertical Washing Machine Art. VW, a special solution with four different processing zones for pre-washing, washing, flushing, drying. The washer is enriched with special sensors to detect the thickness of the glass and the presence of Low-E coating: the independent brushes can adapt the washing to the specific glass thickness and features.
Once washed, the glass sheet arrives to the Inspection and frame positioning Station Art. FP. This solution allows the operator to easily locate the imperfections, through a special LED light configuration plus movable sliding bars. For extra precision, the Inspection Station is available also with a rear chamber for better checking both sides of the glass lite. A system of references, vertical and horizontal, allows a fast and precise manual positioning of the frame.
The next station is the Coupling Flat Press with Gas Filling Art. AP, enriched with a patented retractable extra suction cups on the rear side of press. Thanks to this feature, it can flatten also bowed or warped glass, while also improving gas filling and reducing gas waste. The coupling press has a double circuit for gas (argon/krypton).
The Sealing Robot Art. SR is the last station of the process: capable of using up to 3 different sealants, the Sealing Robot offers high productivity thanks to its self-learning technology, the exclusive continuous sealing system and the automatic dosing unit change. Indeed, it can also manage easily non-planar panes, thanks to the nozzle automatic centring.
In the video, we see some samples of processing with rigid frame: a 2.000 x 2.000 mm IG pane, a stepped unit, a quadruple IG glass and a number of different shapes.
The new video about Forel's "High Tech" IG line is online on the Forel Channels on Youtube and Vimeo.