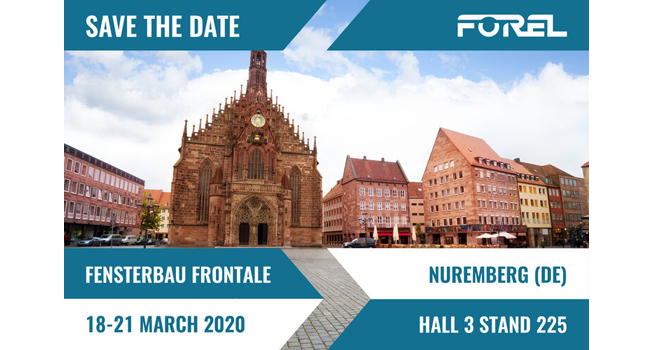 FOREL, leader manufacturer of machineries for the flat glass and double glazing industries, will attend the exhibition Fensterbau Frontale 2020 in Nuremberg, Germany (18-20 March, Nurnberg Mess, Hall 3 Stand 225).
On display during the exhibition there will be:
Vertical arrissing machine (ART. EG): the vertical arrissing machines series Art.EG removes the sharp edges of the glasses by eliminating irregularities, assuring a smooth edge and allowing a safe handling of the sheet, without risk of breaking. The Art. EG significantly increase the productivity of the arrissing operations as is equipped with two operating heads, that are capable of working simultaneously on two different sheets of glass or by synchronizing both operating heads onto one sheet of glass. Indeed, the "self-learning" mode automatically acquires the dimensions for the square shapes and a separate device measures the thickness of the glass being processed.
Profile Bender (ART. PB): thanks to the special Smart Arm (an exclusive FOREL patent), the Profile Bender can support the profile during the processing, avoiding the risk of breaks or deformations, also when working with large sizes. This solution offers at the same time high productivity, quality and no risks of damage for the material, and it is also suitable for bending plastic profiles.