Leading glass container manufacturer and bottler Encirc (a Vidrala company) has partnered with Australian wine producer, Nugan Estates, to bottle and distribute its outstanding wine products to the Irish market.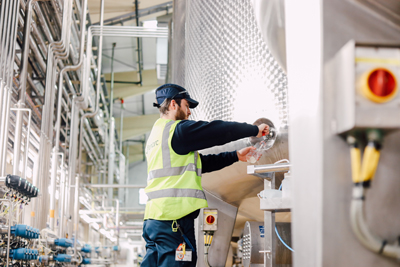 Nugan Estates, originally established in 1940, is making the most of Encirc's unique 360 offering. This process sees the company create the glass bottles and fill them with more than 600,000 litres of wine for Nugan every year, all from Encirc's purpose-built site in Elton, Cheshire. The beverages are being imported to Elton via bulk shipping methods, and are then shipped directly to the Irish retail market from the same place they're bottled. The process ensures Nugan's high-quality products are delivered in the most sustainable way possible.
Encirc, which provides manufacturing, filling and logistics services to global beverage companies, is bottling four brands for the multi-award-winning Nugan Estates. Wines from the Wally's Hut, Parkville, Street Talk, and Nugan Estate Third Generation ranges are being filled in both Burgundy & Bordeaux style bottles. These bottles are made with recycled flint and green glass, further reducing their environmental impact.
Aligning closely with Encirc's sustainability goals, Nugan Estate's winery is committed to reducing the carbon footprint of its products as they are shipped around the world.
Andrew Proctor, Sales Manager at Encirc Beverages, said, "Our model is the most sustainable of its kind across the globe, and it's a privilege to work with such a like-minded business when it comes to sustainability. We're excited to be part of Nugan's journey and offer a seamless 360 service, while also helping them achieve their environmental ambitions."
Matthew Nugan, Managing Director at Nugan Estates stated, "Encirc has a fantastic reputation for delivering across the board with a high-quality, sustainable service. We know we're in good hands when it comes to optimising our supply chain to ensure it is world leading in terms of efficiency and sustainability. Encirc was a clear choice for us as we look to grow our business in Ireland."