Our recent visit to EMS gave us some inside information on the creation of this new group, made up of three important players in the cold-end sector of hollow glass manufacturing: Emmeti – Mectra – Sipac – Logik.
Speaking to Giovanni Ronconi, CEO of EMS and previously CEO of Mectra, the group made up of Emmeti – Mectra – Sipac – Logik, we had the chance to find out not only about the group, member companies and goals, but how they are working to move back into their leadership position in the cold end sector of hollow glass manufacturing.
Giovanni Ronconi, EMS: First and foremost, our new logo – a transition logo – created to group together our four brands: Emmeti, Mectra, Sipac and Logik. So grouping together these four reference companies of the cold end, we are now working on a quite ambitious project, which is that of becoming a more multi-national entity, also carrying out a number of acquisitions in the secondary packaging sector as well as in the 'end of line'.
This project aims at 'pushing' the brands in the sectors the different companies work with, but also looking at expansion in those sectors where the group companies are market leaders.
An example of this is Emmeti, market leader in machinery in the 1990s, and which we now want to take back to its leading position. We have already started on this project by hiring new technical staff, as well as confirming our staff already working in Emmeti. Our machinery will be overhauled with regards to engineering aspects, making the brand much more aggressive.
We have also seen that our clients – both regular and other that we have not been in touch with for some time – often due to the fact that there was no interest in developing the technology of our machines, and sales were based exclusively on financial results.
Our next step is not just to attract clients but to really respond to their needs. This not only means new clients, but speaking to our 'old' clients who we have not been in touch with for some time.
So quite clear steps: industrialization of machines, R&D department, collaboration with universities … and EMS is even now becoming a reference name in the glass sector – once again.
Glass Machinery Plants & Accessories (GMP&A): Does this mean that the brand has remained or ….?
EMS: The history of the product is its quality – that has remained – with machinery that is up and running smoothly even now – after about 10 years! However, when clients who had replaced our machines with others start to come back to us again, it is a clear example of our commitment to our work and clients – who are not just small companies but big important groups.
GMP&A: We are also seeing an important comeback in the use of glass compared to plastic, which is a positive factor for the glass sector and its machinery manufacturers…
EMS: In fact, our idea is to exploit this situation to the utmost because glassmakers will be investing in new lines with all the equipment required.
GMP&A: So, big changes going on, but there also seems to have been some important changes with regards to strategy and management – the previous situation was that each company had its own management and strategy, but what about now?
EMS: Yes, it's a lot different now – the opposite! Before there were different partners in each different company – carrying out different activities that were often complementary to one another but not always – but it was like being in-house competitors. Now, with all partners involved in the entire group, which will actually be merged completely at the end of October with the name EMS, this type of competition has been eliminated.
The previous group of 13 partners, which I was part of, as CEO of Mectra, sold to a private equity focusing mainly on industrialization, who invest in manufacturing companies of different sectors. We sold 100 per cent of the shares of all four companies, and another partner and myself decided to reinvest in this new project as 5 per cent shareholders.
And when we speak about investing, we are speaking about personnel, software and other connected aspects. I can say that in the past four months we have invested in more than one million Euro in software alone for CAD, changing the operative system completely, design system for electronics, and also to have everything connected and making production as lean and fast as possible.
We have also invested in post-sales…enabling remote assistance and Augmented and Mixed reality.
So you can see that all these important investments are being carried out to make the group as productive as possible, more aggressive on the market, and – with other acquisitions – create a type of group that can become number one at global level in palletizing equipment.
The following step will be to give the group another push to grow even more, to become completely industrialized and to create profit on the investments made.
GMP&A: When you speak about acquisitions, are we speaking about competitors….?
EMS: Our goal is that of acquiring complementary companies that will lead us to have a complete range of products (for the cold end). This means that we are looking for secondary packaging companies – upstream from palletizing operations – quite important in the food and beverage sector.
Another area that we will be investing in is logistics – end-of-line – warehouses and all other connected aspects. There is also the possibility of developing some kinds of technology directly in-house if there is the starting point and opportunity.
These complementary companies are Italian and the acquisitions are expected to take place around the end of August.
GMP&A: What are the percentages of the Group's presence in the various sectors: food and beverage, glass and others…
EMS: With regards to our turnover of EUR 130 million right now, we have EUR 35 million coming from food, EUR 45 million from glass, and the remaining part coming from beverage.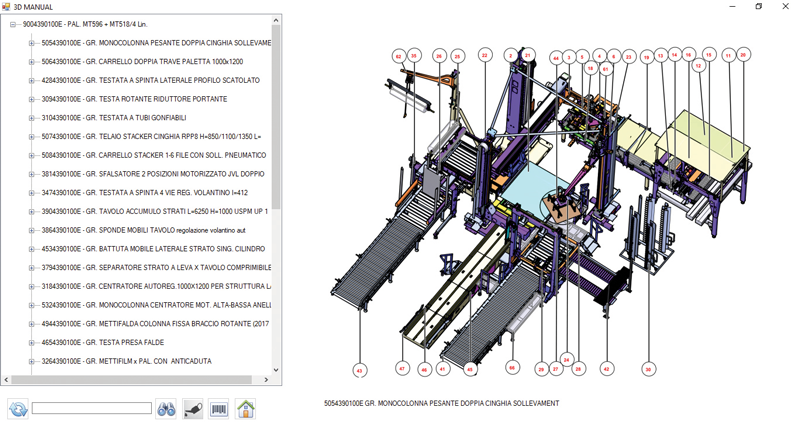 GMP&A: So this means that glass is continuing to be an important part of your activities?
EMS: And we want it not only to remain important but to become even more important in the near future. We are now a group with clients in all sectors who are waiting for and looking for innovations and developments from us, with an expected turnover of about EUR 200 million – therefore with the possibility of R&D and innovation. With this important role that we now have, we no longer just have to follow the market, but also to lead the market, and as the biggest group in our sector it is our duty!
The biggest and most important challenge of today's market – for manufacturers and distributors – is logistics – which will move more and more towards automation and robotic applications, which, for our group, is expected for the first half of next year.
GMP&A: Does being a 'newly-formed' group also involve creating a new sales network?
EMS: We know quite well that our sales network cannot manage the sales of the entire group now – and we are not only speaking about sales, but also technical and marketing aspects too.
We have already gathered together all commercial activities in Emmeti, with the addition of two new people, one for beverage and the other for glass. We have also hired a third person – very well-known and prepared in the glass, beverage and food sectors, who will be in charge of our plants in the US. He will be in charge of the development in the US and in Latin America for sales and marketing, with another technician who will be transferring out there.
All together, the US workforce will be made up of two people from Italy, who will be working with an American lady who is already working in sales and marketing there, along with another technician and a person in the administration department.
As you can see, we are also investing heavily in the US with Emmeti USA.
All other sales and marketing aspects: Europe, Asia and so on, is managed by our sales force that we already have, with the addition of two new people – as already mentioned.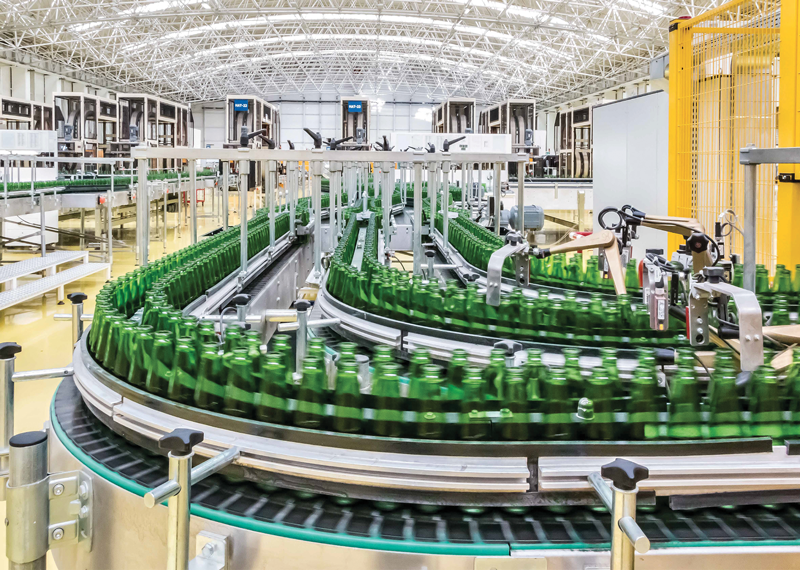 GMP&A: What about China? Companies there are starting to look for Western technology.
EMS: It's quite an open discussion right now as we haven't sold very significant plants there on a continuous basis. We will have to start considering a local office/plant there but not right now – in the future it will probably be taken into consideration.
Right now we are working on maintaining and re-establishing contacts with present and past clients, not only aimed at selling our products, but also to have a continuous contact with these companies so that they can be updated about what we are doing and our developments and innovations. An important part of this collaboration will be that of involving clients in discussions regarding improvements and updates to our machines.
GMP&A: What are the group's strategies from here to October as far as communication is concerned?
EMS: This is a transition period for us – also with regards to communication – so there will not be any real communication strategy before Vitrum, but after the show things will start to move.
Right now we have a series of innovations for the bottling sector – a new plant, already tested and which is being assembled right now – which has given us the possibility to enter new market sectors.
We have a communication programme already planned which means that we will be sending out a 'newsletter' once a month or every two months to inform our clients about any developments or innovations that we have. We are speaking about a real newsletter that will speak about the company, people, activities.
We will be presenting our new group website in October at Cibus, and from then onwards there will also be the distribution of our new newsletter, as well as communication using different social media.

EMMETI – SIPAC / EMS GROUP
www.emmeti-spa.it