One of EMS Group's latest innovations, EASYROCK, is the result of a solid background combined with the goal of providing customers with increasingly high-performance and sustainable solutions: a robotic unwrapping system for the automatic removal of shrink film from loading units of hollow glass intended for subsequent de-palletizing.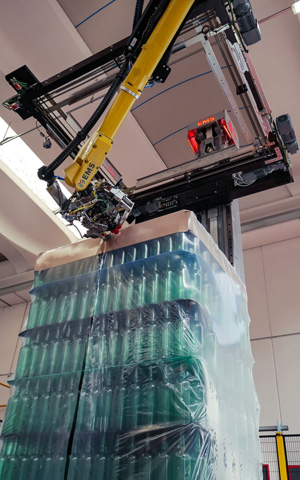 Manual film removal involves risks originating from plant personnel's use of cutting tools and ladders, passage on handling conveyors, and the potential for items falling from the load unit.
Installing EASYROCK at the in-feed of de-palletizing lines greatly increases the overall safety of the working environment, as well as boosting line efficiency and providing maximum application flexibility.
EASYROCK is equipped with a system that performs a preliminary analysis of the load unit (LU) and thus enables:
The automatic detection of the workability of the loading unit on pallet (especially product incline and shrink film integrity assessment).
The acquisition of key data about the LU for the proper management of all subsequent operations.
The handling of different LU formats without the need for operator intervention.
EASYROCK utilizes a motorized rotating blade cutting system that ensures the integrity of the product and layer pads while also focusing on sustainability by reducing the use of heating elements or hot air blowers to cut the film, which significantly decreases energy consumption.
The patent pending, multifunction head is the system's core as it can manage film pick, cut and removal in a single station.