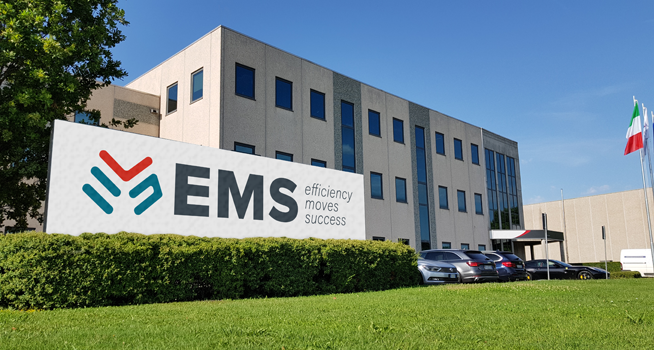 In an ever-more plastic-free world, EMS Group is the new global leader in the "cold end" sector of the glass industry. A goal first announced a year ago, when setting up the group that produces palletizing and depalettizing lines, packing and handling of empty and full multi-material packaging. A goal reached now with the announcement of the acquisition of Zecchetti Srl.

The announcement comes just a few days from the Cibus Tec trade show in Parma, where the companies of the EMS Group will be exhibiting together with a new coordinated image to confirm the merger. Alongside Zecchetti, the Group also includes four brands of the Emilian "packaging valley": Emmeti and Mectra in Montecchio Emilia (RE), where the headquarters of the group are located, and Sipac and Logik, in Fontevivo (PR).
This new Group member is located just 500 metres from the headquarters of the EMS Group, and was, until now, the Group's most important competitor with the best performance in terms of growth in the cold end of the glass sector, thanks to a highly aggressive commercial strategy.
For the EMS Group, this merger means a growth in turnover of 130-200 million EUR, and an increase in the number of employees from 290 to 400.
The acquisition of Zecchetti, above all, results in a global expansion of the customer base, particularly in the USA, Latin America and Asia-Pacific.
"Growth," explained Giovanni Ronconi, president of the EMS Group, "Which will enable us to become market leader in the cold end of glassworks, expanding our range of products, technologies and services for our clients."
An important achievement in the group's growth strategy.
"The hollow glass sector, dominated by four top international players, and which is already growing," continued Ronconi, "as a consequence of the progressive move away from plastic tied to consumer choices and ecological brands."
Positioning itself as a leader in this sector therefore means benefiting from the maximum impulse provided by the green revolution.
Zecchetti, founded in 1960, supplies turnkey automation solutions for the transport and palletization for empty glass and PET bottles. The company is also specialized in automated storage and retrieval systems (ASRS), thus expanding the technology and know how of the EMS Group. As of now, the Group can provide clients from all sectors with solutions that are ever more complete.