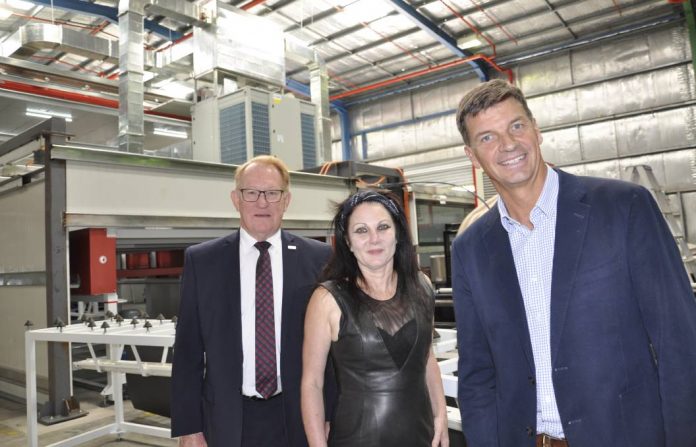 The managing director of the Dragon Glass Company, Kate Wendt when choosing the location for her laminated glass manufacturing business wanted somewhere between Wagga Wagga where she is based and Sydney that could offer reasonably priced land, good transport and logistics and a ready workforce. Goulburn offered all these things. Now the company, Dragon Glass, is just weeks away from sending its first product out of the premises.
The 3 million dollar venture will manufacture the largest and strongest laminated construction glass in the Southern Hemisphere using innovative technology involving multi-layering. The military grade product is used in airports but also top end retail premises that need specialist glass, just to name a few. Investigations are also underway into using it in interactive television screens.
Kate Wendt commented "We do everything no one else wants to do, like all the big commercial construction. Everything we do is engineered to a structure because of the size and weight."
Since November, machinery, some of which was designed by Ms Wendt, has been set up in the spacious 1200 square metre building. It includes a large tilting table onto which the raw product is placed, an automatic glass washing machine, a clean room, which is one of the largest in the world, interlayer table and oven in which the glass can take anywhere from 30 minutes to five hours.
She came up with the lamination technology herself and then sold the patent to a Spanish company in order to fund the Goulburn operation. Spanish and Chinese companies have also been involved in research and development at the Bradfordville factory.
Her company also has a CSIRO grant to explore how much multi-layering of panels is possible with the technology.
"The more layers you can achieve, the more structural glass you can do," she said.
Mayor Bob Kirk, Hume MP Angus Taylor and council business development manager Jackson Reardon toured the operation on Friday.