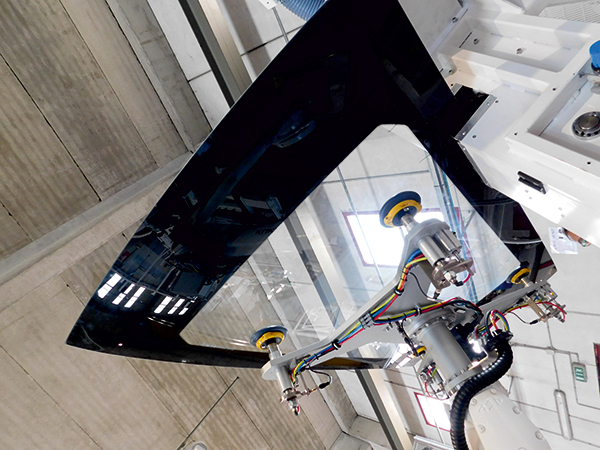 Among IOCCO's contribution in the manufacture of systems for the air extraction during the lamination of windscreens, laminated sidelights and sunroofs is the notable improvement for both concept and fabrication of vacuum bag furnaces. In fact, recently the company's R&D department has designed a new furnace that represents an evolution of models built and installed in the past.
Thanks to this evolution, various configurations of the new vacuum bag furnace allows operators to:
Process windscreens, laminated sidelights glass and sunroofs as well as products made of ultrathin glass and multilayers including PVB, PDLC, SPD and XIR.
Monitor all the process phasis, vacuum values and temperatures on each produced glass.
React to possible anomalies to guarantee continuous and quality production.
Reduce operating costs.
Manage and monitor production/process data in compliance with Smart Industry.
This new version is derived from two fundamental factors:
The first is represented by the guidelines of various government bodies on issues such as energy efficiency, emission reduction and innovation as well as being in line with the Smart Industry philosophy.
The second comes from the growing market trend of car makers for increasing demand of laminated roofs and sidelights that are ever lighter, safer, more complex in shape and with innovative technologies. This in addition to windscreens increasingly equipped with ADAS systems.
Car makers want flexible productions, which allow model changes without interruptions in the process.
Based on these criteria, the IOCCO R&D department strove to develop a single system capable of responding to these fundamental requirements.
As a result, the automation and control section has been completely redesigned with numerous implementations; now the new system offers easier management (user friendly) in the face of a more complex software that manages the process.
In this new version, the system is able to detect any thermodynamic anomalies, and then to stabilize the process according to the new parameters, allowing production continuity up to its total recovery.
The application of a new thermoventilation system has allowed the whole system to contain its dimensions in height, so that it can be installed even in buildings where it wasn't possible before. It should be noted that this new system involves significant energy savings, for the first time allowing to manage the real transfer of energy in accordance with data suggested from interlayer suppliers.
Another important advantage is the possibility to install an additional module for energy recovery, which, together with the use of dedicated inverters and more performing insulation, along with other technological developments, have made it possible to drastically reduce operating costs to the benefit of the processed products.
Team IOCCO has developed the ability to select and process only its own data with the continuous implementation of a structural software standard that includes all the installed devices. Particular attention is paid to continuous information and training on the new systems offered by the market both in terms of sensors and actuators and PLC, Robot, Vision, human/machine interface (HMI) and PC-based systems.
Moreover, the remote connection enables IOCCO technicians to intervene when needed, wherever the machine is located in the world, guaranteeing immediate assistance.
The system to collect production data helps the use and predicts the maintenance assuring a constant production running, with a result of a prompt aftersales service, also by means of augmented reality systems.
The 3DEXPERIENCE platform enables IOCCO to make computational testing with physics-based simulation a foundational part of their innovation process resulting in less real-world testing and prototyping while lowering cost and reducing risk. Modelling and simulation are tightly integrated in a unified experience. Realistic simulation enables new ideas to be evaluated quickly to find the best trade-offs at the earliest design phases while remaining within time and budget constraints.
Virtual commissioning provides a solution for moving a significant portion of commissioning tasks to an earlier phase of the project, away from the critical path. In virtual commissioning, a simulation model of the system is created to replace the real factory. The virtual factory is then connected to the real control system, so that the simulation can be used simultaneously with the procurement and assembly to verify the design and test the control system. This allows for quicker detection of possible errors.
The digital twin is outfitted with various sensors related to vital areas of functionality. These sensors produce data about different aspects of the physical object's performance, such as energy output, temperature, weather conditions and more. This data is then relayed to a processing system and applied to the digital copy.
Once the virtual model is configures with all the necessary data, it can be used to run simulations, study performance issues and generate possible improvements, all with the goal of generating valuable insights. In addition, and thanks to these methods, all operating parameters in terms of flow rate, quality and safety can be better checked in detail. These advanced procedures to carry out the validation phases of projects is currently a IOCCO standard procedure.
IOCCO adopts the latest technologies available on the market to enable customers to monitor production in real time, reduce failures and downtime, optimize plant availability and production and plan maintenance.
More than one process listed below, can be matched together in the same line as needed:
Bright finishers assembly
Centering pins and spacers assembly
Long life primer application
Polyurethane extrusion on the periphery
Seals, bond on lace and finishers assembly
Alarm, fax, antenna, heating circuit connectors assembly
Grommet assembly
Assembly and gluing of various accessories (bars, centering pins, spacers,…)
Polyurethane extrusion on the glass periphery
Brackets/pins application supporting various devices
Seals, bond on lace and finishers assembly
Long life primer application
Mirror boss assembly
Centering pins and spacers assembly
Holders application
Spacers application
Encapsulation (PU, TPE, PVC)