Crystal Window & Door Systems, the national manufacturer based in Queens, NY, USA, is nearing completion of one of the largest window replacement projects in the City of New York.
Crystal has successfully supplied nearly 14,000 energy efficient replacement windows for the sprawling Windsor Park Co-Op complex.  Windsor Park Co-Op encompasses 20 six-story apartment buildings spread over 46 park-like acres in the Oakland Gardens section of Queens, NY.  Windsor Park has 1,830 apartments of various sizes and is home to over 5,000 residents.
The window replacement work, one of the largest in the region at this time, began in late 2017 and is scheduled for completion within the next few weeks.  All the window replacement work was accomplished while apartments remained occupied, always a challenging effort.
"Crystal was delighted to join with our installation partner Ecker Windows to provide the residents of Windsor Park with new energy efficient windows," said Jimmy Zhou, Crystal's Senior Account Manager for the project.  "This 14,000-window project demonstrates Crystal's ability to effectively supply major multi-year, very large quantity window projects.  While Crystal has furnished windows for numerous other large-scale projects, such as Lefrak City in Queens, and Harbor Point in Stamford, CT, this one was particularly satisfying since it is so close to our factory and is home for some of our employees."
The Crystal Series 2600 aluminum double-hung was the predominant window used for the project.  The 3-¼ inch frame depth window has tilting sashes, a ⅞ inch insulated glass unit (IGU) pocket and is AAMA rated CW-PG50/HC50.A strong proven weather-resistant energy-efficient window, the Series 2600 features a deep sill pocket, three layers of sill weatherstripping, a continuous full-width bottom lift rail clip lock, and a continuous full-width variation of the standard anti-drift head clip lock. For increased energy efficiency, the double-pane insulated glass units used double-strength thickness Vitro Solarban 60 and clear glass with argon gas filling.  Bathroom windows were specified with obscure glass.
While most of the Series 2600 windows were ordered as single units, several thousand were specified as side-by-side twin units, which utilized the model line's continuous master frame option.  Part of the project featured several hundred quadruple and quintuple horizontally combined units using mulled Series 2600 windows.  For easy operation, most of the bottom sashes were equipped with Ultra-Lift block-and-tackle balances.
In addition to the Crystal Series 2600, the building basement window replacements also used over 300 Crystal aluminum Series 2300 2-light sliding and Series 8530 project-in hopper windows.  The basement windows were specified with dual-pane tempered IGU glass.
To facilitate installation, the windows were ordered with 2 inch perimeter face flange (casement fin) frames.  Crystal also supplied matching clips and snap trim to aid the new window installation process.  All the windows and exposed installation accessories were finished in Crystal's standard AAMA 2604 durability bronze color powder coat paint.
A key factor in selecting the supplier and installer for the Windsor Park window replacement project was how the new windows would accommodate several thousand new window air-conditioning units.  The Windsor Park Co-Op Board was seeking to have all the new air-conditioning units installed in a common fashion to provide a uniform and attractive exterior appearance for all the buildings in the complex.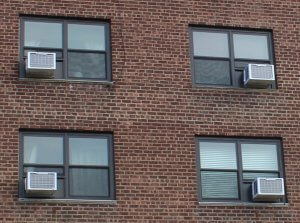 The window installer Ecker Windows and Crystal partnered on an inventive solution.  Crystal fabricated the windows that would have air-conditioning units, whether single or in twin combinations, in an oriel style. The oriel style windows had a standard height size top sash but a dramatically shorter bottom sash which with the sashes closed left an open gap in the lower portion of the master window frame.  The installer specially adapted the oriel windows and supplied insulated panels cut perfectly to fill the open gaps and fit the new air-conditioning units.  This innovative solution provides a uniform meeting rail look for all the windows and allows the shorter lower oriel sash to be locked closed, providing both security and weather-tightness.
The Windsor Park window replacement work is part of a major 22 million USD capital improvement effort undertaken by the Co-Op Association.  Besides new windows, the multi-year, multi-phase project includes new window air conditioning units, elevators, intercoms, and pool and tennis complex improvements.
Owners of the property, the Windsor Park Co-Op Association, retains AkamLiving Services of New York City as its property manager, and its subsidiary PMG Project Management Group, also of New York City, as overall project manager for the capital improvements.  Engineering services for the window replacement work was provided by Lawless & Mangione Architects & Engineers of Yonkers, NY.  One of the New York area's largest and most experienced fenestration firms, Ecker Windows of Yonkers, NY, is the window installer for the massive project.