Glass Company embodies quality, technology, research and innovation – all with a view to surpassing mere mechanical solutions. Based in Pesaro, the company is foremostly a consultancy which, thanks to its team of specialists and engineers, assists businesses in the selection and development of machinery that can meet existing needs.
Born from the decade-long experience of its founder, Claudio Bernabucci, the company has evolved into a significant entity that both markets and manufactures glass processing machinery. Its offerings include systems for safety glass production (thermal and chemical tempering furnaces, EVA lamination ovens, PVB lamination lines with autoclave), laser machines, machinery for fire-resistant EI glass production, painting systems, digital printing, screen printing and more.
Through key partnerships with European, American and Asian multinationals, the company has structured and provided technological solutions with an excellent quality-to-price ratio – often tailor-made for each client in a way that transforms expertise into an art and thereby enabling the realization of unique and sophisticated projects.
Glass Company's continuous and significant research work, applied to their machines, has led to the creation of the Glass-Mek division, which encompasses five main product families, namely those of LaserMek, SoftMek, FireMek, PlasMek and Special Machines.
LaserMek

These machines, equipped with fibre or other laser sources, have been specially designed for the glass sector. They are ideal for ablating and engraving any type of coating, leaving the glass completely transparent or with a matt effect. Ultra-fast laser machines equipped with Picosecond, Green, IR, etc., sources are also suitable for cutting and drilling glass, available in various sizes upon request.
SoftMek: GH Square calculation programme
This calculation program has been specifically developed for determining the position of coating cuts, electrical conductivity and other necessary parameters to produce heated glass with specified characteristics. GH Square generates a vector file that can be executed on the company's (and not only their) laser machines.
FireMek: for fire resistant glass production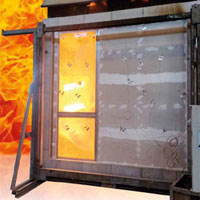 This system is capable of manufacturing a full range of flat and curved fire resistant glass in various resistance classes: 30, 60, 90 and 120 minutes. These glass types provide the highest level of protection.  Also, each machine comes with certified chemistry for the production of extremely transparent inorganic intumescent mixtures.
PlasMek: atmospheric plasma

This atmospheric plasma is used for the pre-treatment of glass surfaces to enhance the adhesion strength of applied materials such as paints, inks, adhesives, etc.
Smart furnaces for glass tempering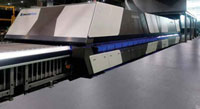 These combine top-quality materials with excellent technology, ensuring reliability, quality and reduced energy consumption – all at competitive prices. These furnaces are available for the production of flat and curved glass, in single-chamber, double-chamber and continuous configurations.
Special machinery and plants
These are custom-made upon client request. They include machines for the production of glass spacers, assembly machines for glass fridge doors with transparent spacers, machines for the application of functional coatings, chemical tempering furnaces and more besides.